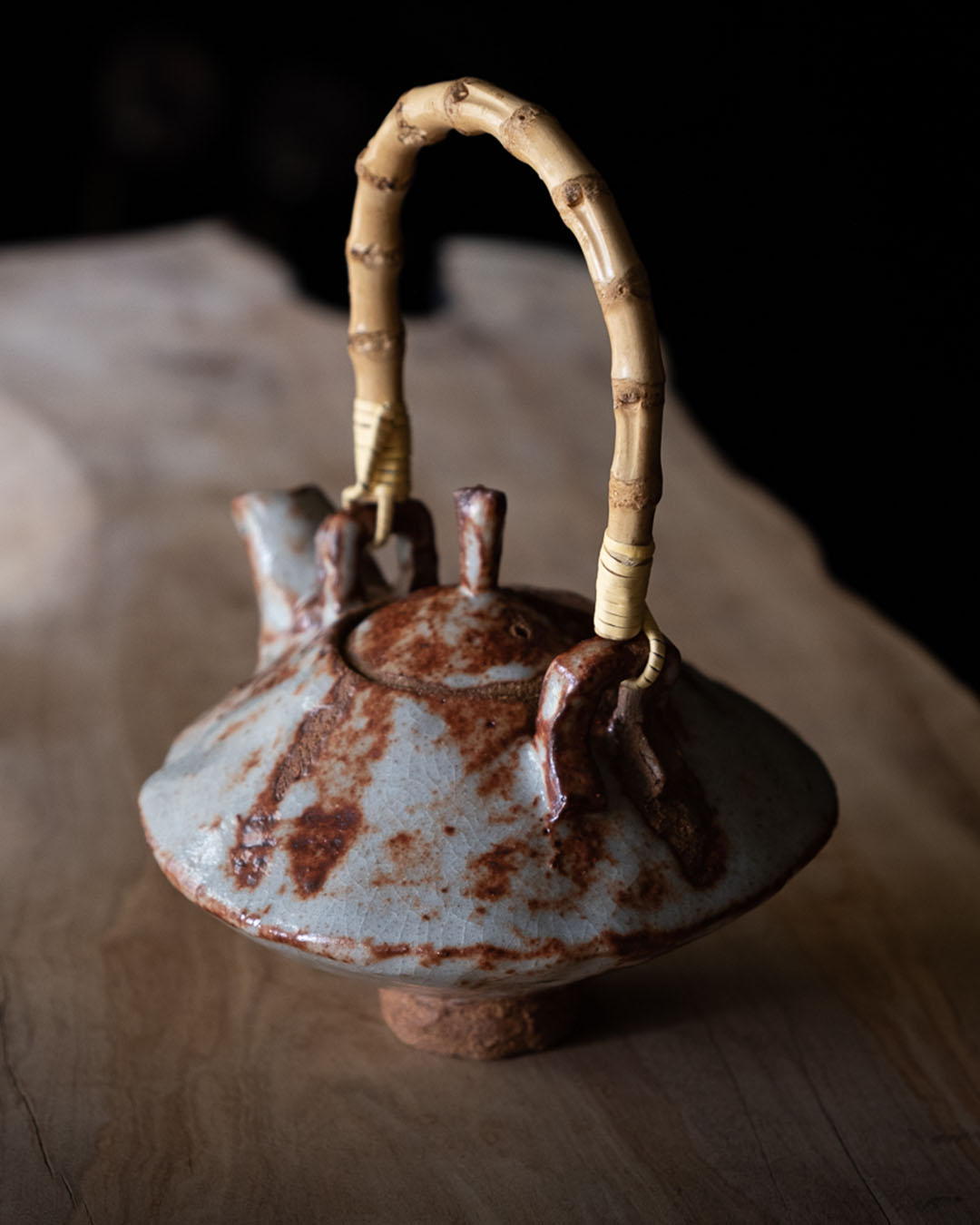 Shino Tea Pot and Tea Cups set of 4 (-20%)
Please note: To boost the odds of your goodies arriving by December 25th, we recommend placing orders for in-stock items before December 12th.
Made to order. This product will be crafted just for you ❤️
Products are shipped between 4 working days (when in stock) and 4 weeks (if made to order).
This set contains the Tea Pot Normal white and 4 cups of the glaze of your choice.
This is a handmade teapot glazed in shino, a traditional Japanese glaze. It is hand-formed, and later, hand-trimmed to give it its final form. The artist, Sebastia, choses the slow process of building by hand to infuse each piece with the gifts of "imperfection" and "asymmetry", characteristics that enrich each piece with its own individual personality. It is made with a custom mixture of stoneware and iron-rich clay. This special combination gives the pieces a specific resistance to fire, and a distinctive color and texture. The handle is made of bamboo. Shino glazes are famously known for being a difficult glaze to work with, and they can only be fired in a "reduction atmosphere", which is created inside the kiln by depriving the fire of oxygen. This unique process, forces the fire to extract oxygen from the clay and from the glaze midfiring, which causes a chemical reaction that makes shino glazes possible. Firings take 10 hours, in a completely manual kiln, until they reach a top temperature of 1280ºC. Using real flames to fire pottery is a very delicate and magical process. Firing this way, forces the artist to appreciate the unexpected and not be attached to expectations. It requires a lot of dedication, but the same time, it makes fire and active part of the creative process. This union of clay, technic and glaze are chosen specifically to create unique and unrepeatable pieces. Pieces that the artist, Sebastia, hopes will bring you a renewed sense of wonder and appreciation for ceramics.
Crafted in Spain
Materials: Stoneware clay
Technique: Hand-formed and hand-trimmed
Measurements:
Diameter Ø 11 cm x 9 cm H (without handle)
Weight 500 g
Care & Manteinance:
This piece is food and dishwasher safe.
But our recommendation is that you wash your ceramics by hand with care as regular use in the dishwasher may shorten its life.
This piece is NOT microwave safe due to the iron content of the glaze.
Due to the particular characteristics of the glaze and it's "crackled" nature, pieces are susceptible to chipping or cracking if they are banged against other objects, so it's really important to handle them with care.
Keep in mind that strong colored liquids or foods such as coffee can stain the pieces overtime.
Remember that this isn't mass-produced factory ceramics, each piece is completely unique.
Shipping is FREE IN EUROPE over € 180.
Shipping cost below € 180 varies according to continent, in accordance with the following flat shipping rates:
Belgium, Germany, France, Italy, Portugal and Spain: € 11,99
Rest of Europe: € 15,99
UK & Switzerland: € 19,99 
USA: € 29,99
As a matter of fact, we do want to encourage you to shop local and support artisans from your own Country.
For the rest of the world, unfortunately we do not provide flat shipping rates. However, if you are really in love with TA-DAAN products get in touch with us and we will get back to you as soon as possible. ❤️