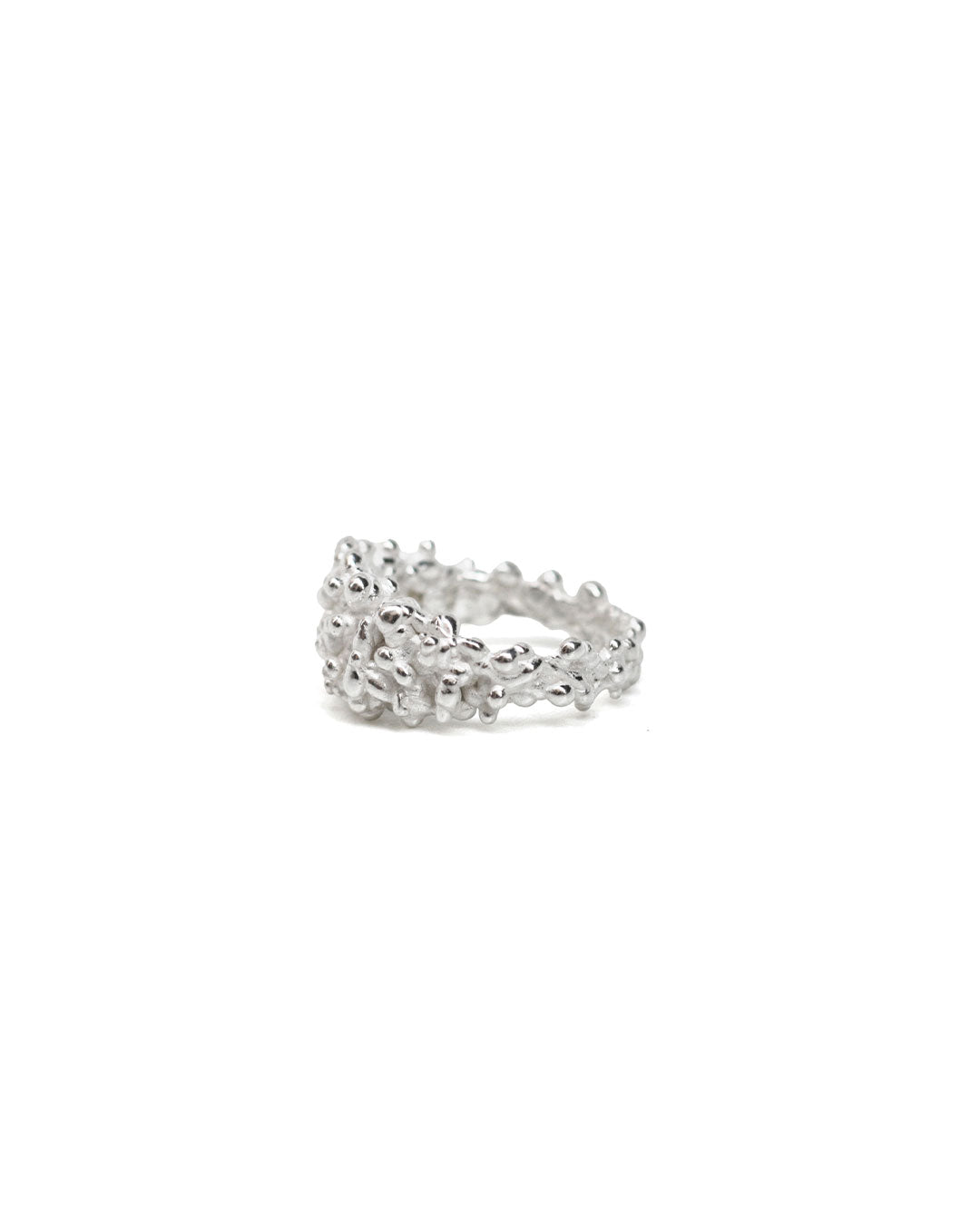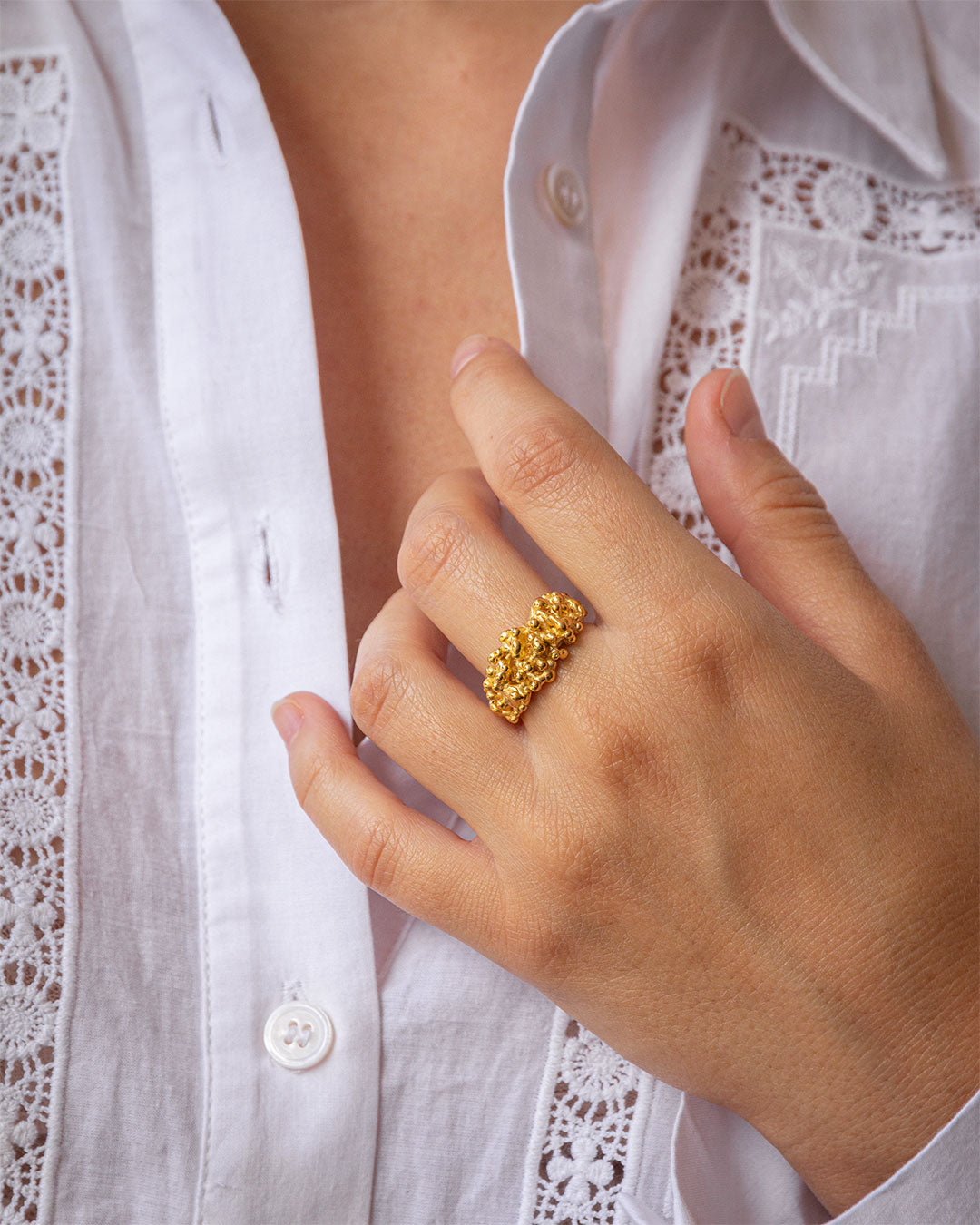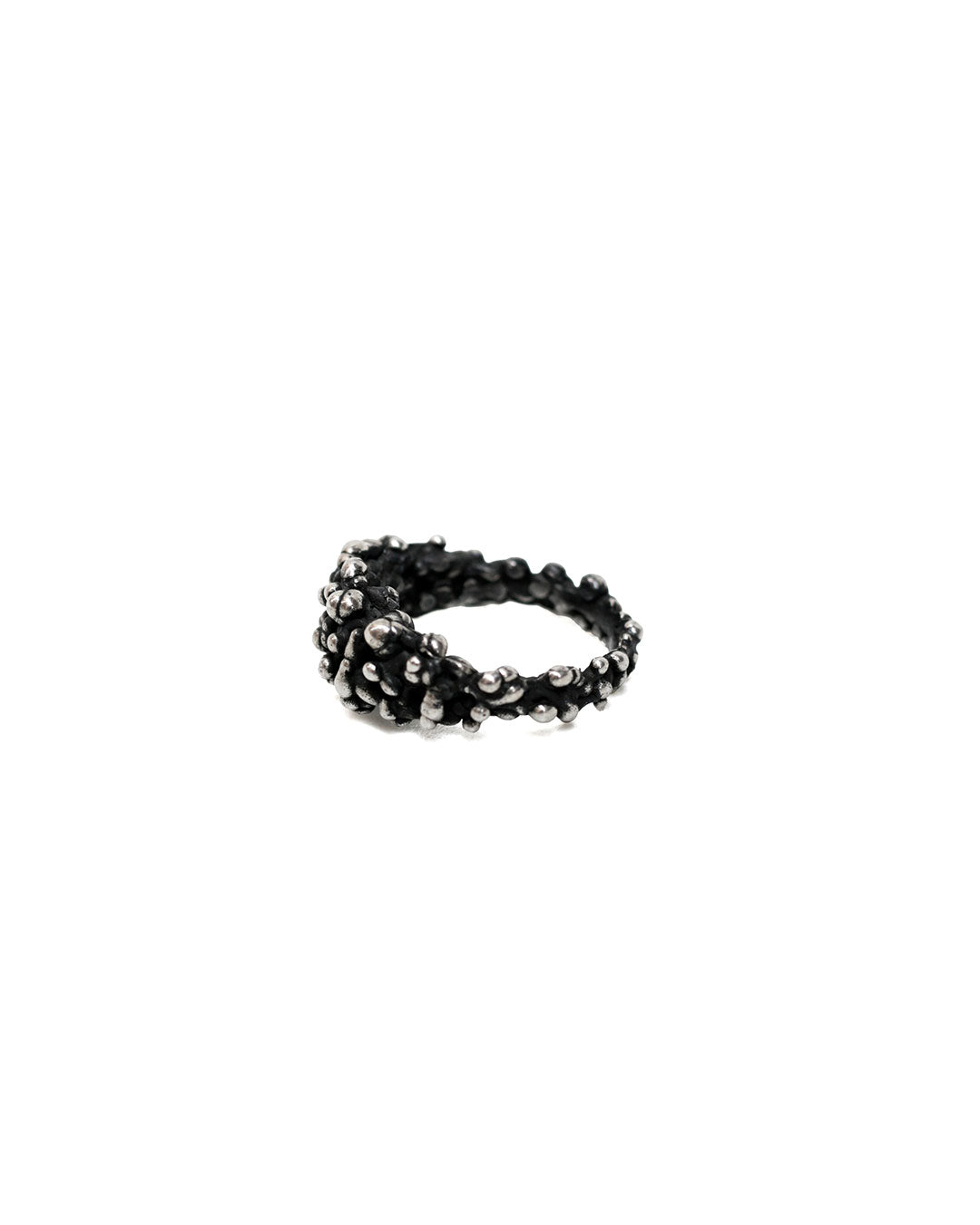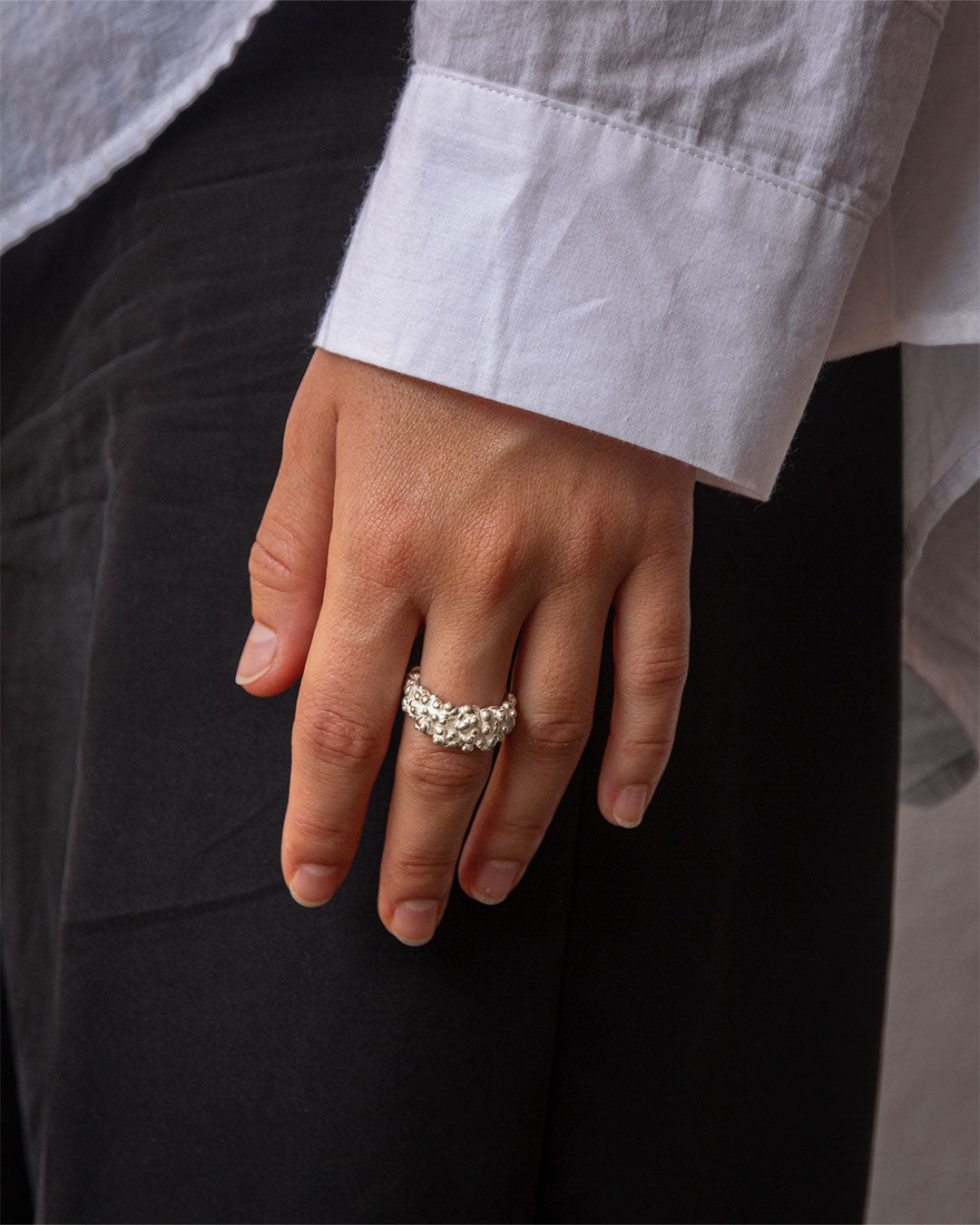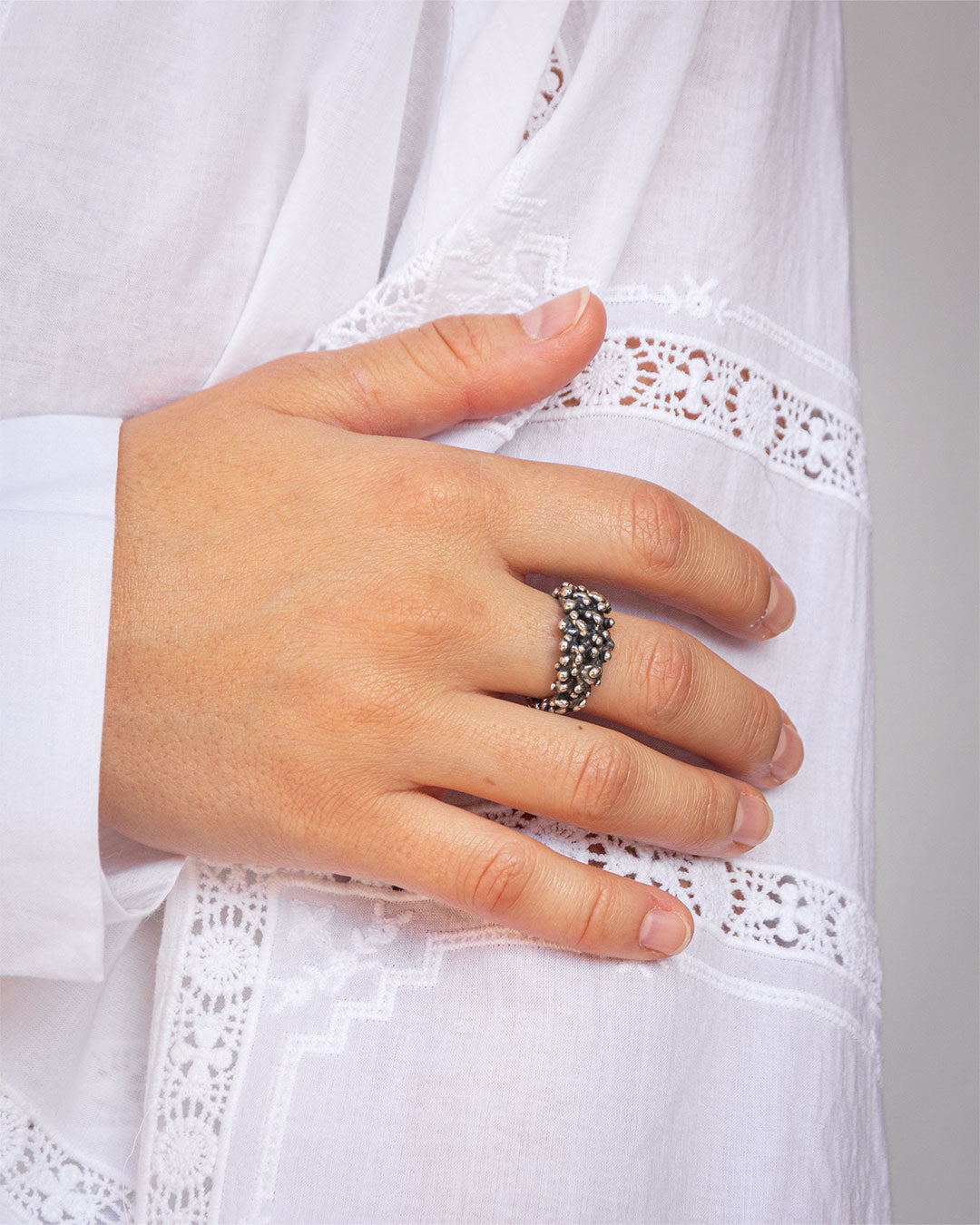 Rain Signet Ring III
Act fast – limited stock available!
Products are shipped between 4 working days (when in stock) and 2 weeks (if made to order).
The "Rain" ring is a unique piece that evokes the freshness and vitality of rain. Every detail has been carefully crafted to reflect the beauty of the drops falling from the sky, creating a dazzling visual effect.
In addition to its aesthetic appeal, this ring reminds us of the importance of rain in our world. Rain renews nature, revitalizes our landscapes and is vital to life on Earth. It is a reminder of the beauty and the need to appreciate and enjoy the natural phenomena that surround us. To wear the "Rain" ring is to carry with you a little piece of nature, a symbol of freshness and renewal. It is an opportunity to express your connection with the world around you, celebrating the magic of rain and its power to revitalize.

Crafted in Spain
Materials: 925 black silver, 925 silver, that can feature a 5 micron gold plating, made with 18 karat gold.
Technique: Lost-wax casting technique
Measurements:
Weight 12 g
Care & Manteinance:
To keep your beach piece in optimal conditions, we recommend you to follow these care guidelines. Avoid direct contact with sunscreen and colognes, as they can affect the appearance of the jewelry. Whenever possible, remove the ring before immersing it in chlorinated water, seawater or sulfur-containing hot springs, as these elements can damage the piece.
In case the jewelry is slightly oxidized, you can use water with baking soda and scrub gently to clean it. However, for the gold-plated silver ring, it is advisable to avoid contact with water in general, including showering and hand washing. Constant rubbing between fingers and water can shorten the durability of gold plating.
Follow these care tips to keep your beach piece in optimal condition and ensure that it retains its beauty and charm over time. Remember that each piece of jewelry is unique and made with passion, so proper care will ensure its longevity and allow you to enjoy it for a long time.

Shipping is FREE IN EUROPE over € 180.
Shipping cost below € 180 varies according to continent, in accordance with the following flat shipping rates:
Belgium, Germany, France, Italy, Portugal and Spain: € 11,99
Rest of Europe: € 15,99
UK & Switzerland: € 19,99 
USA: € 29,99
As a matter of fact, we do want to encourage you to shop local and support artisans from your own Country.
For the rest of the world, unfortunately we do not provide flat shipping rates. However, if you are really in love with TA-DAAN products get in touch with us and we will get back to you as soon as possible. ❤️