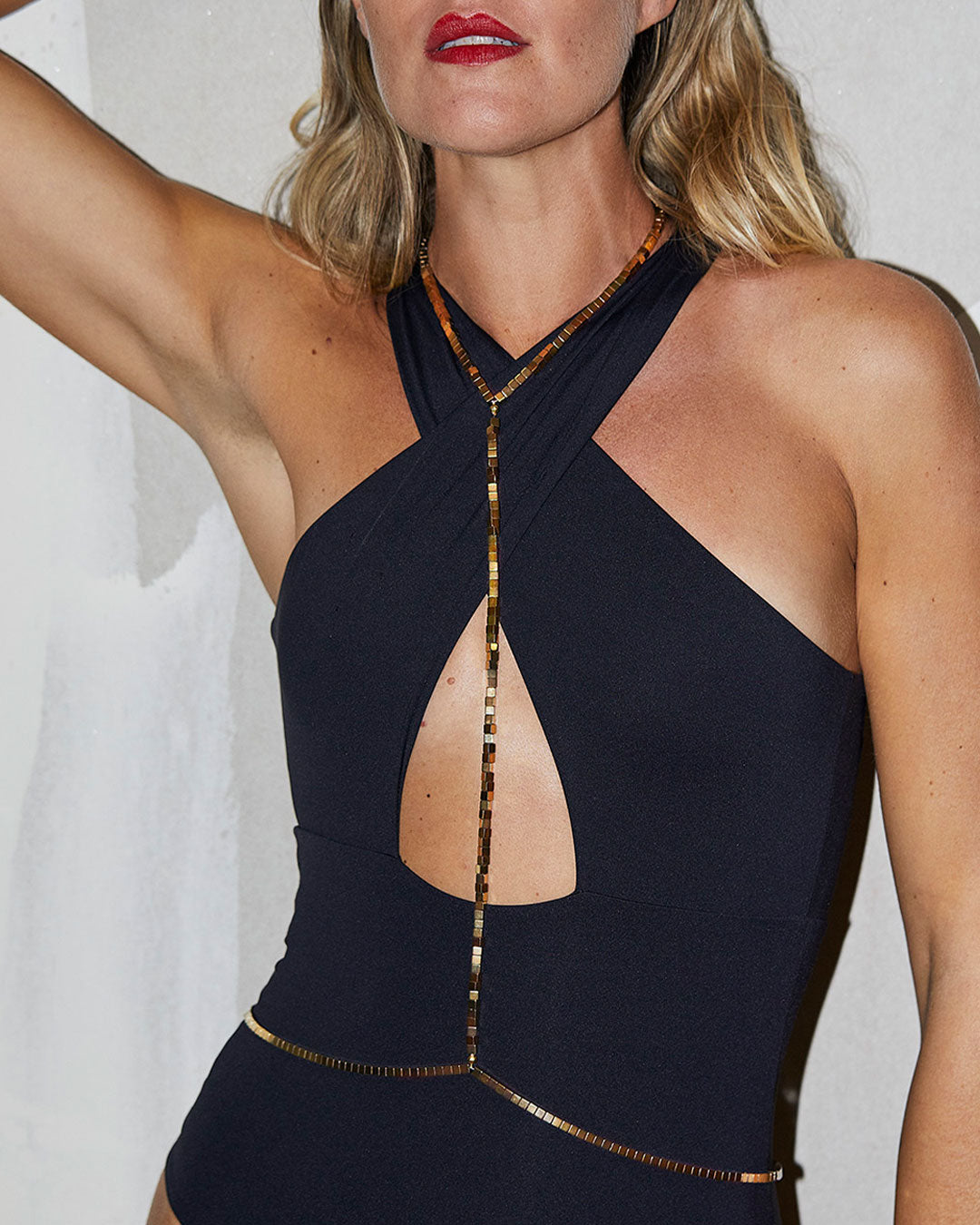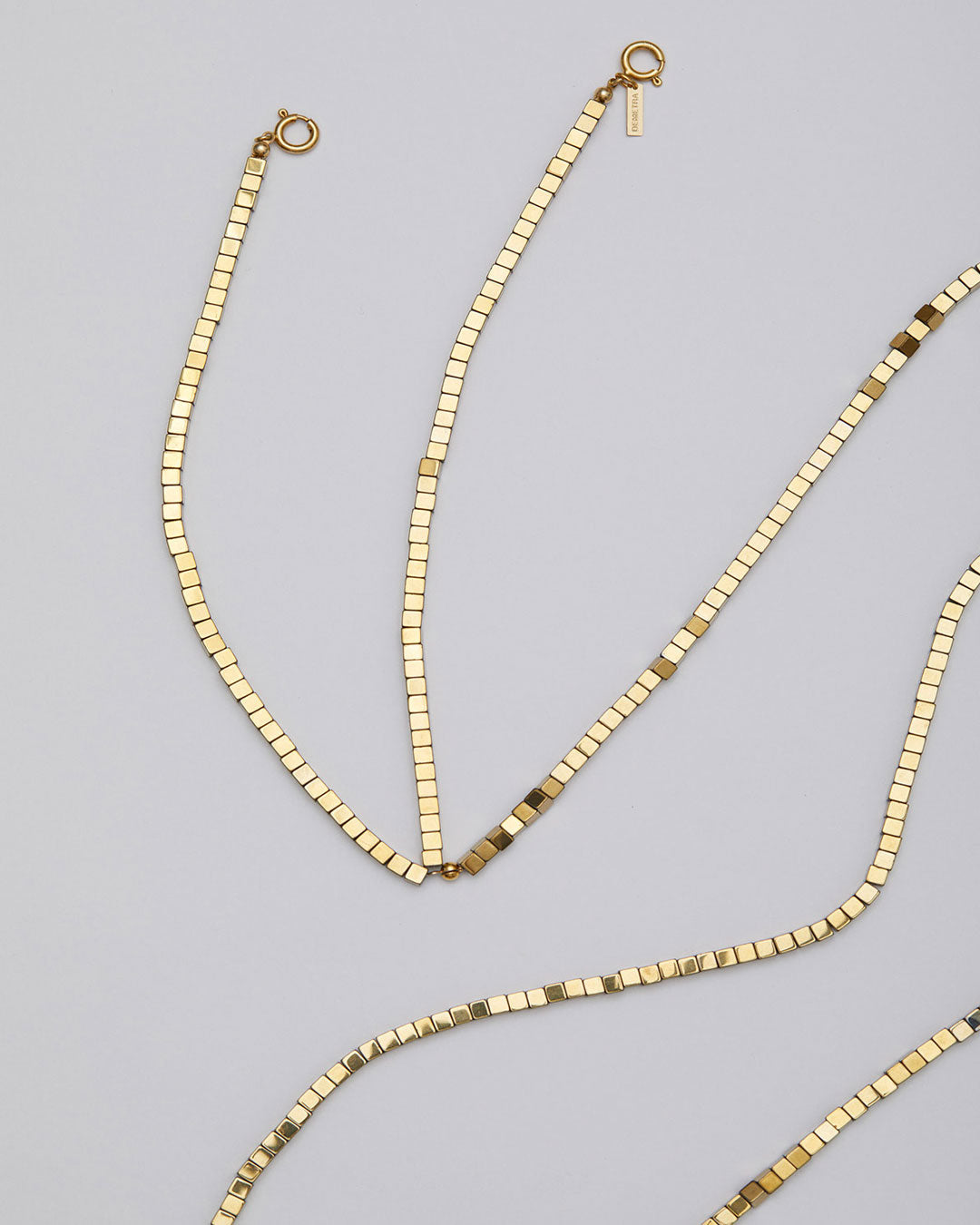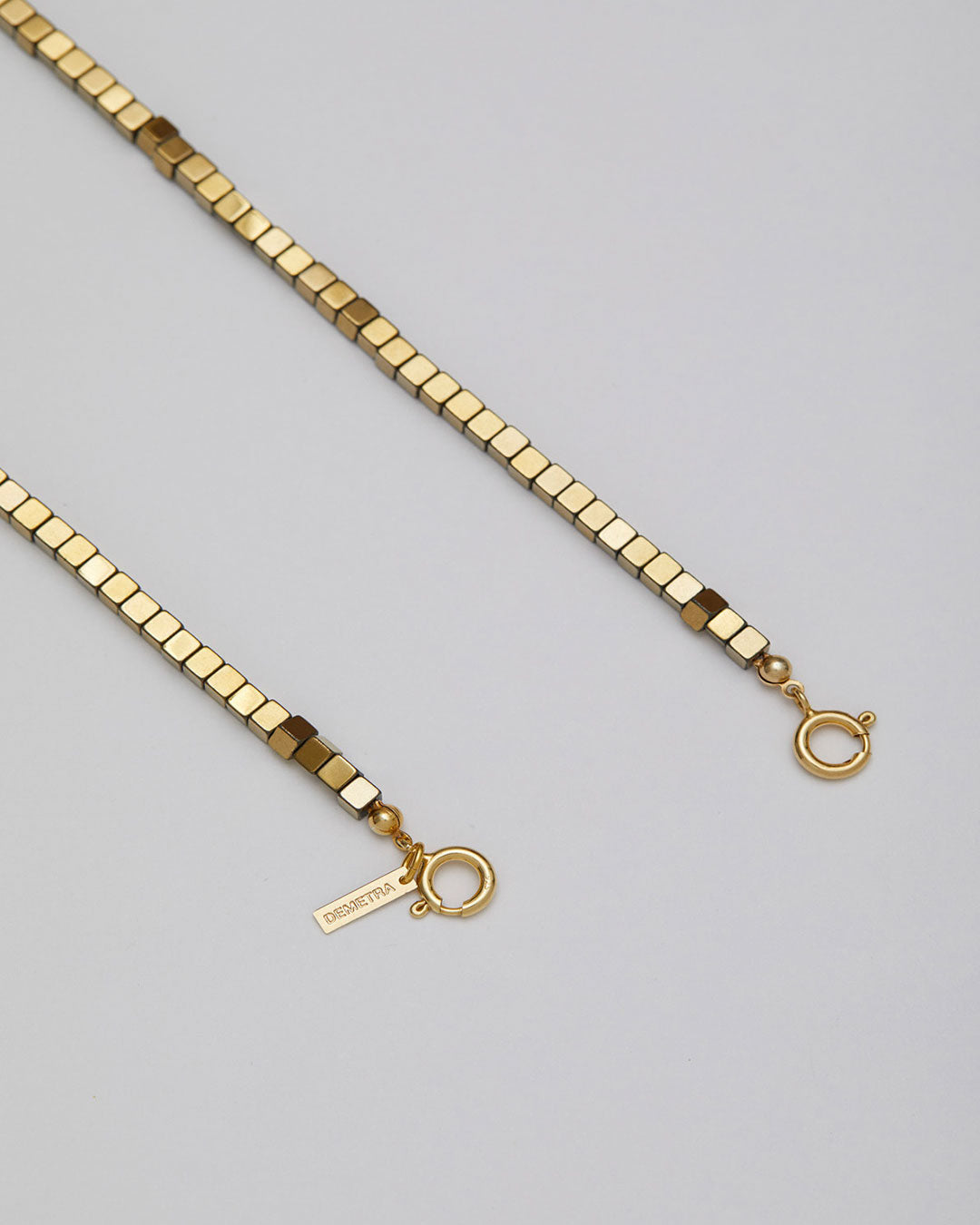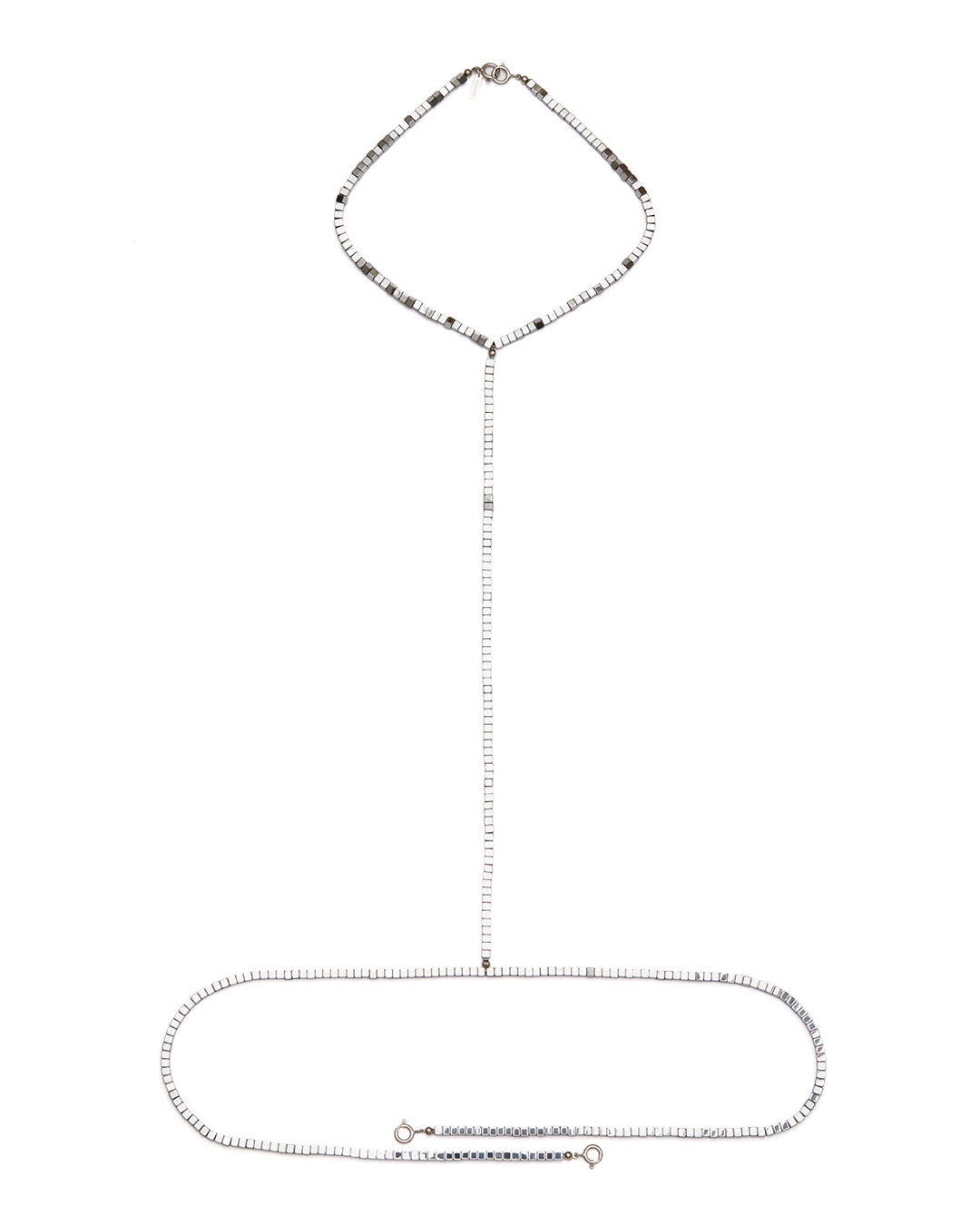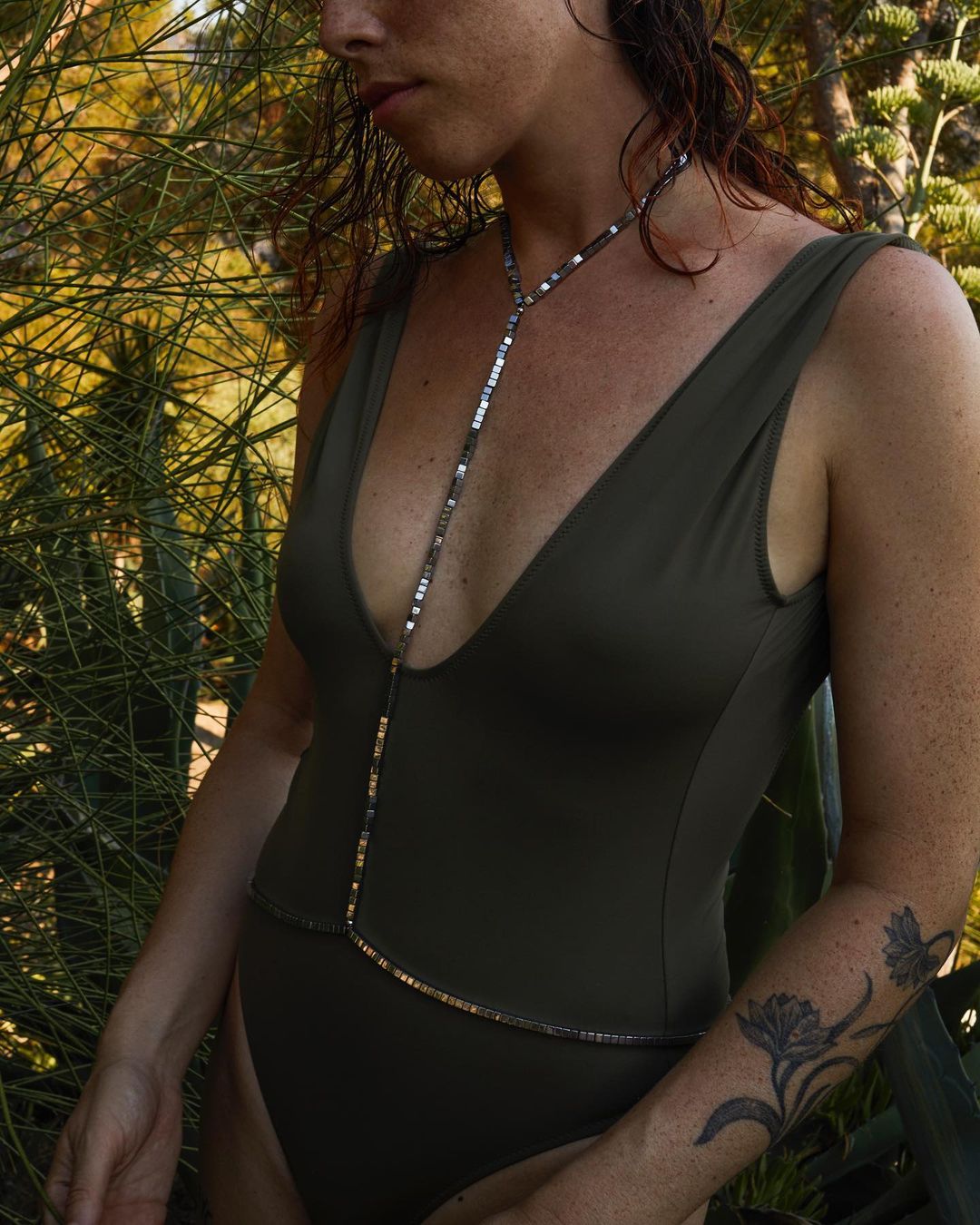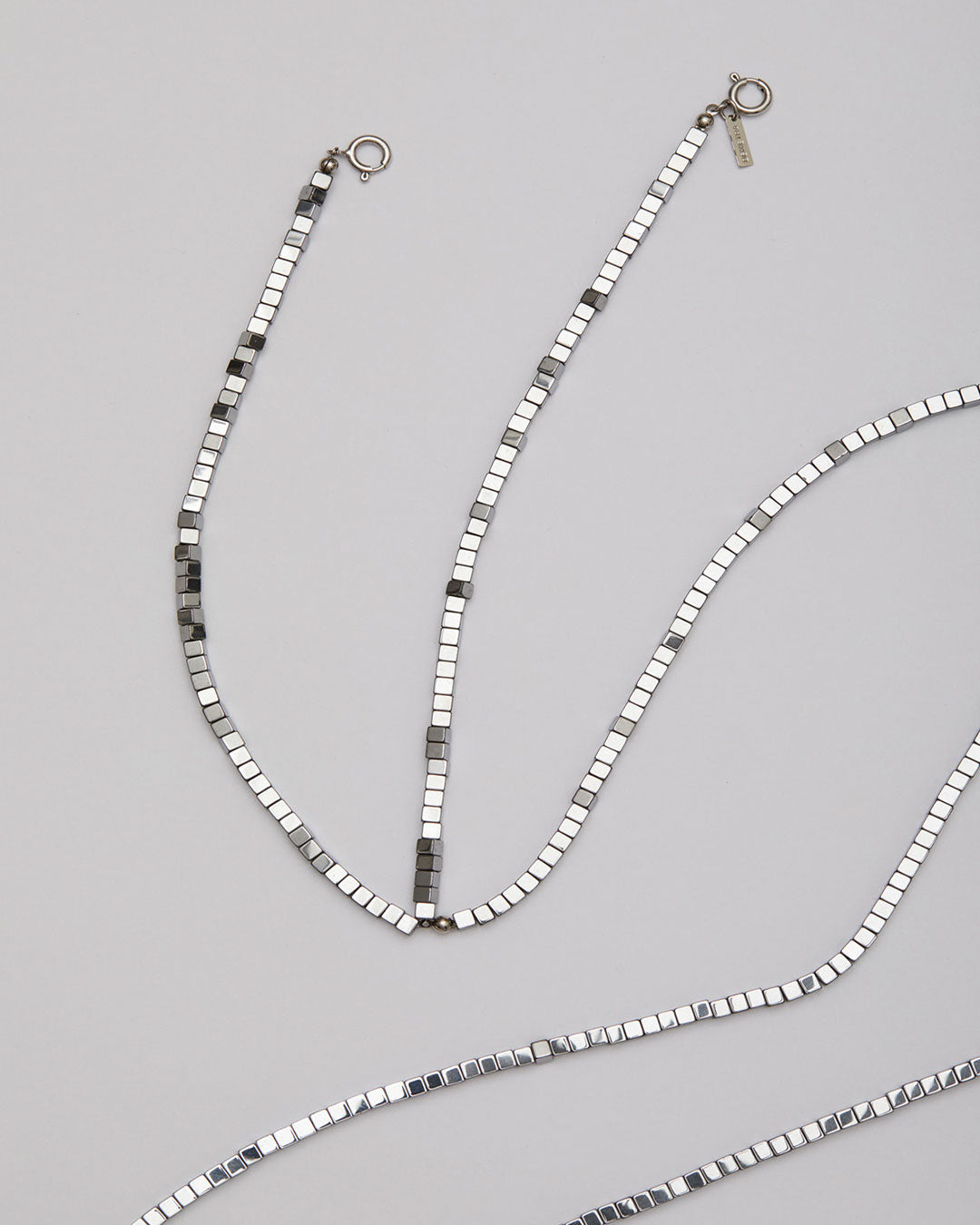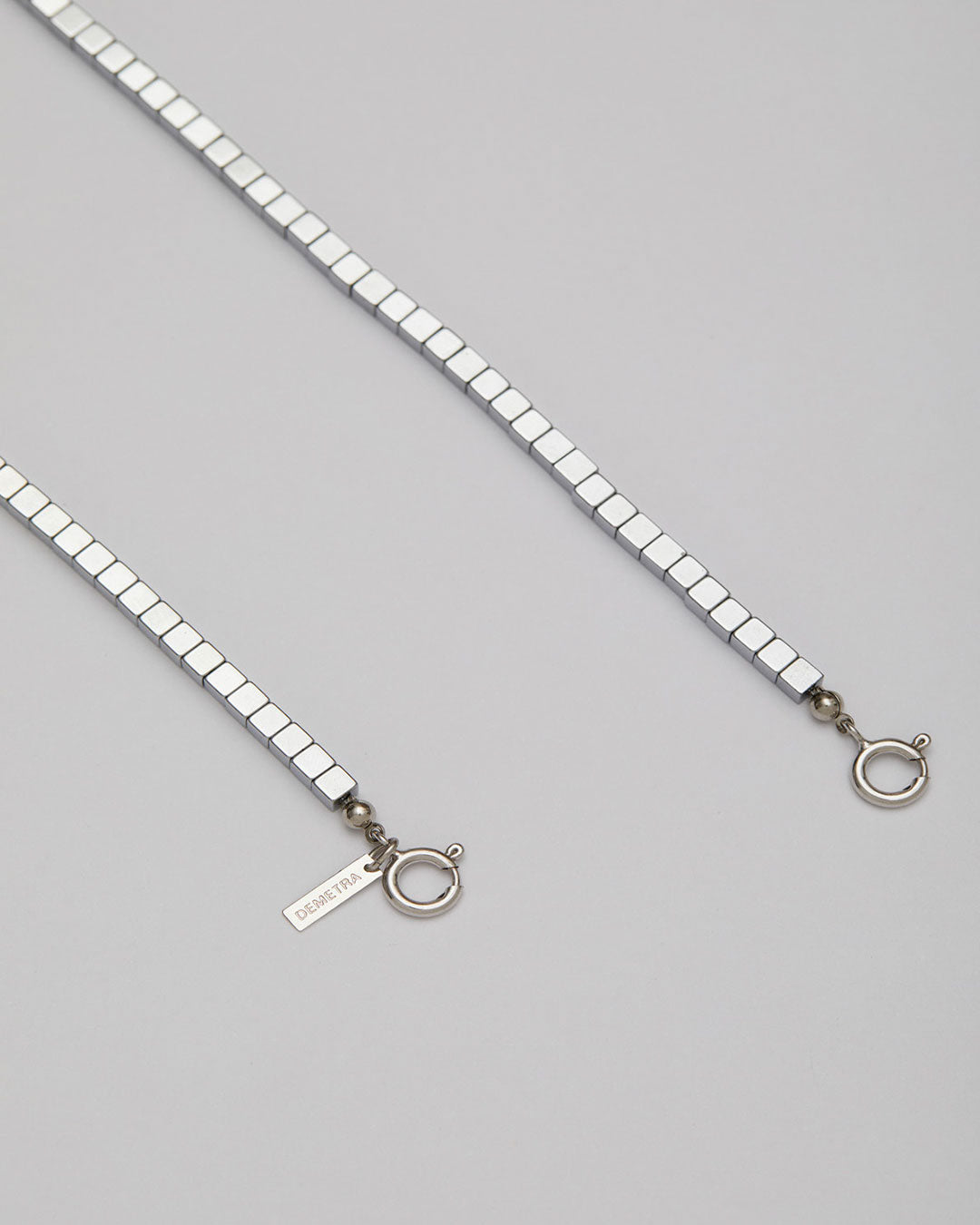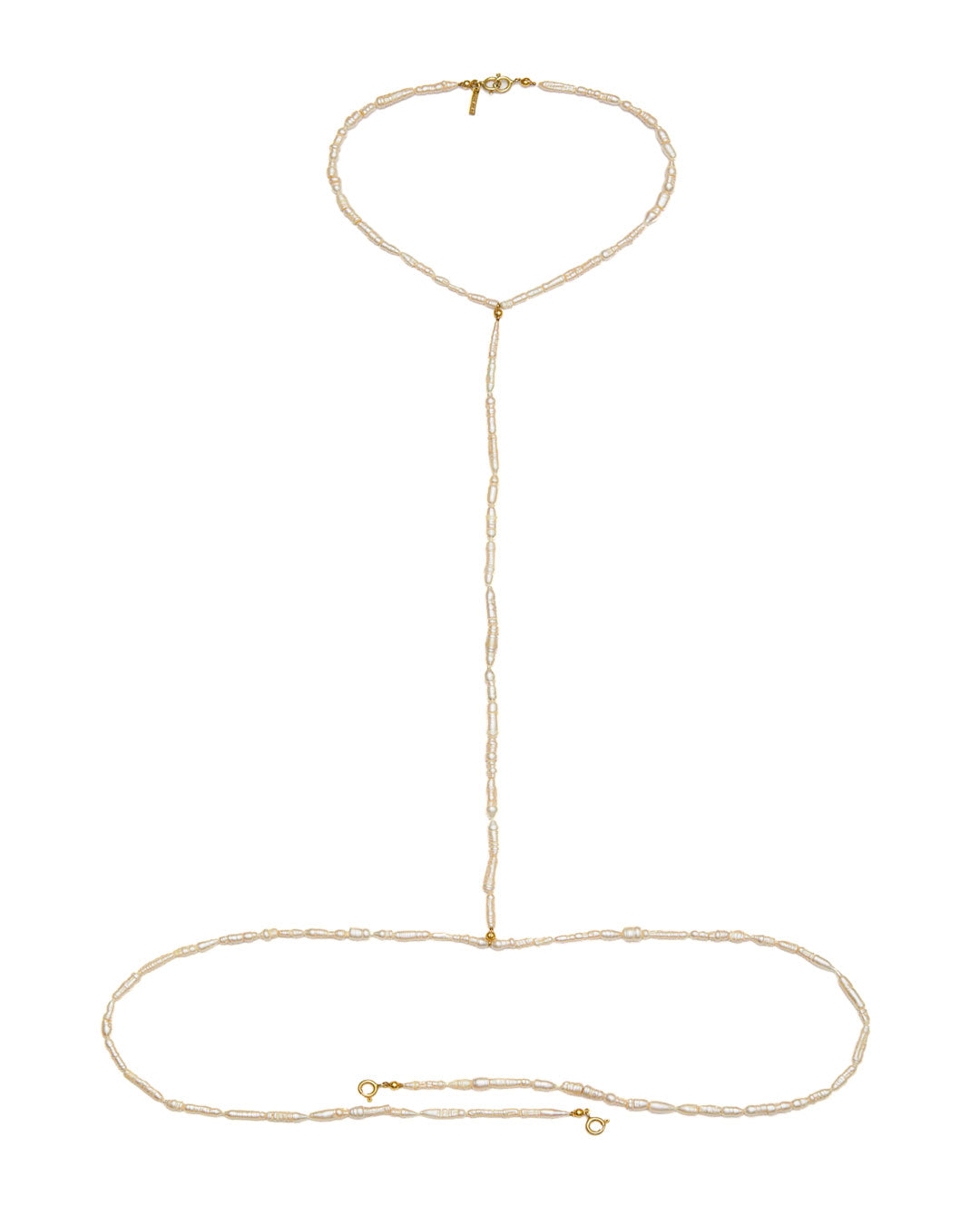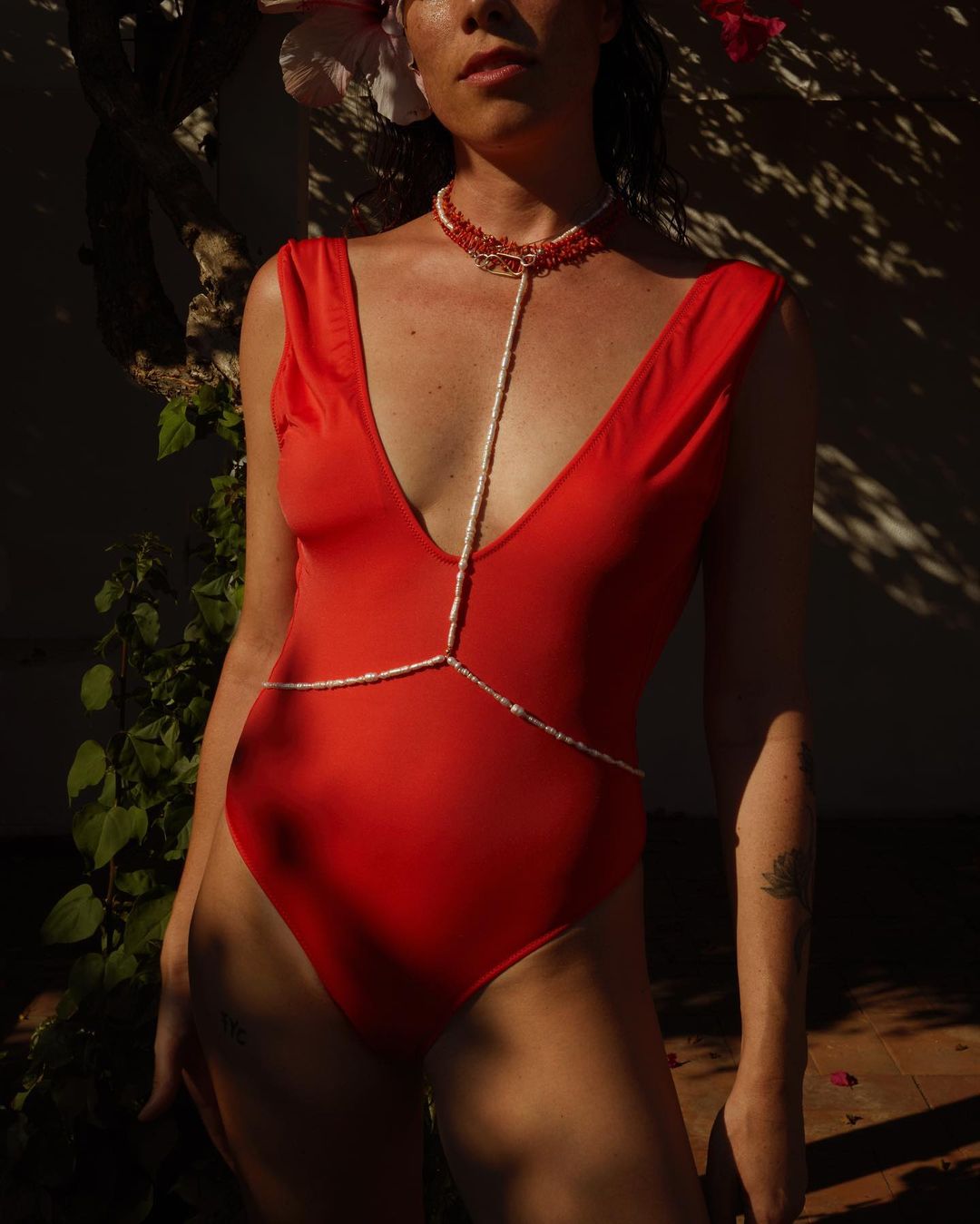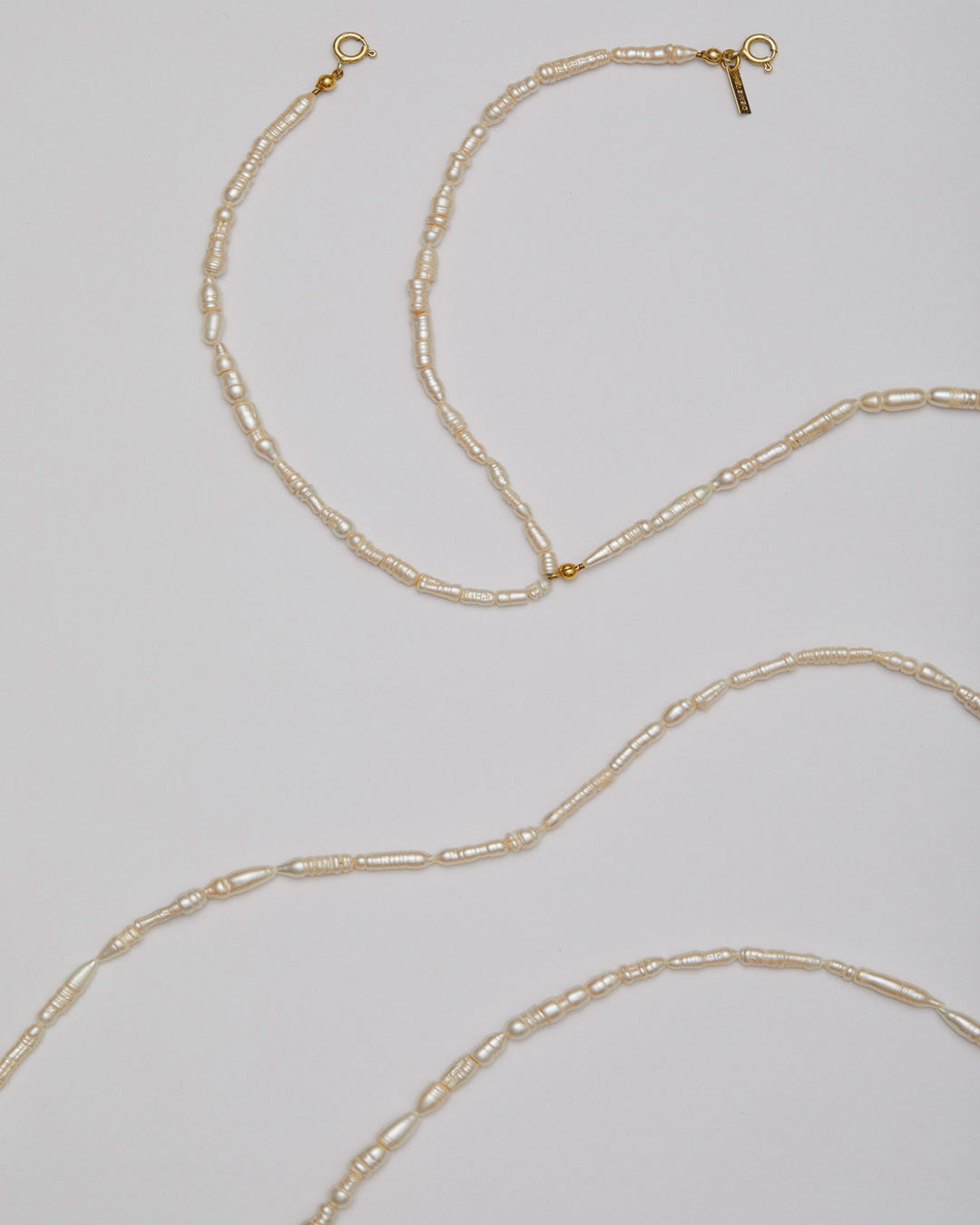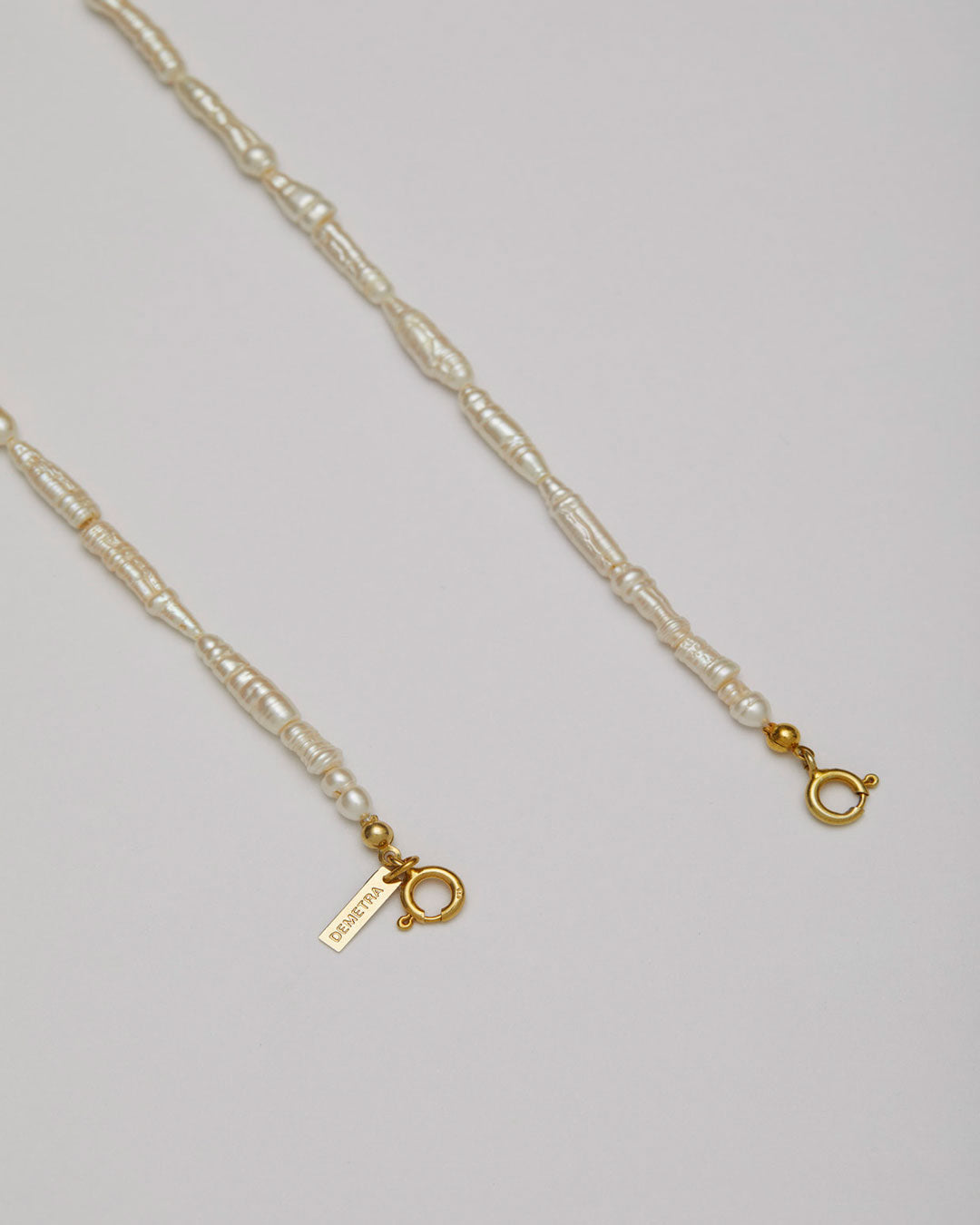 Olympia
Act fast – limited stock available!
Products are shipped between 4 working days (when in stock) and 1 weeks (if made to order).
Handmade body jewel featuring Hematite elements or freshwater river pearls, sterling silver closures, brass DEMETRA logo. Hematite is a shiny stone, consisting mainly of iron. It keeps us grounded and strongly rooted to the earth.
Biwa pearls refer to the pearls that came from Lake Biwa, Japan. These were the forerunners to today's freshwater pearls. Kokichi Mikimoto was the first to create commercially viable cultured pearls, they were wildly irregular in shape, typically long, stick-like and bumpy. Our pearls' shape is inspired by these amazing pearls.
The Olympia has a tight fit and embraces your body in a bold way. You can wear it on top of your swimsuit at sunset or under a loose and oversized shirt every day. Because it's never too much and never enough.
Crafted by hand, this item may feature subtle irregularities and can vary both in shape and hue. Nickel-free.
IMAGINED IN MILAN, HANDMADE IN ROME
Crafted in Italy
Materials: Hematite elements or freshwater river pearls, sterling silver and brass
Technique: Goldsmithing
Measurements:
Small
neck: 41 cm, torso: 28 cm, waist: 75 cm

Medium
neck: 43 cm, torso: 30 cm, waist: 82 cm

Weight 70-100 g
Care & Manteinance:
- We recommend to lay the product in a flat position in order to avoid bending the wire and to keep it away from heat.
- Avoid contact with liquids (perfume, beauty products).
- The product doesn't require particular maintenance. You can wear it in salt or pool water, if it gets a little opaque, just rub it with a soft cloth.
Shipping is FREE IN EUROPE over € 180.
Shipping cost below € 180 varies according to continent, in accordance with the following flat shipping rates:
Belgium, Germany, France, Italy, Portugal and Spain: € 11,99
Rest of Europe: € 15,99
UK & Switzerland: € 19,99 
USA: € 29,99
As a matter of fact, we do want to encourage you to shop local and support artisans from your own Country.
For the rest of the world, unfortunately we do not provide flat shipping rates. However, if you are really in love with TA-DAAN products get in touch with us and we will get back to you as soon as possible. ❤️