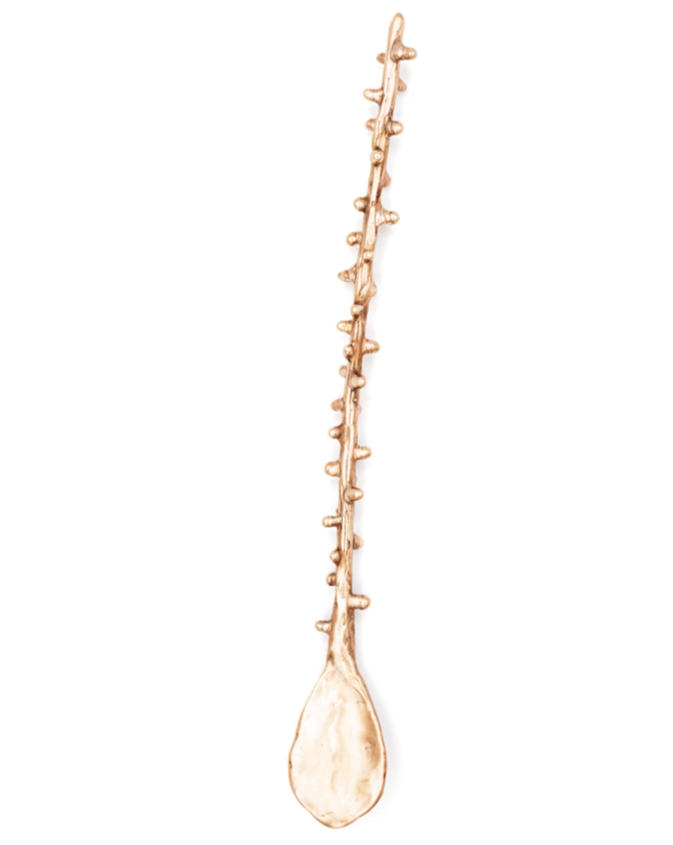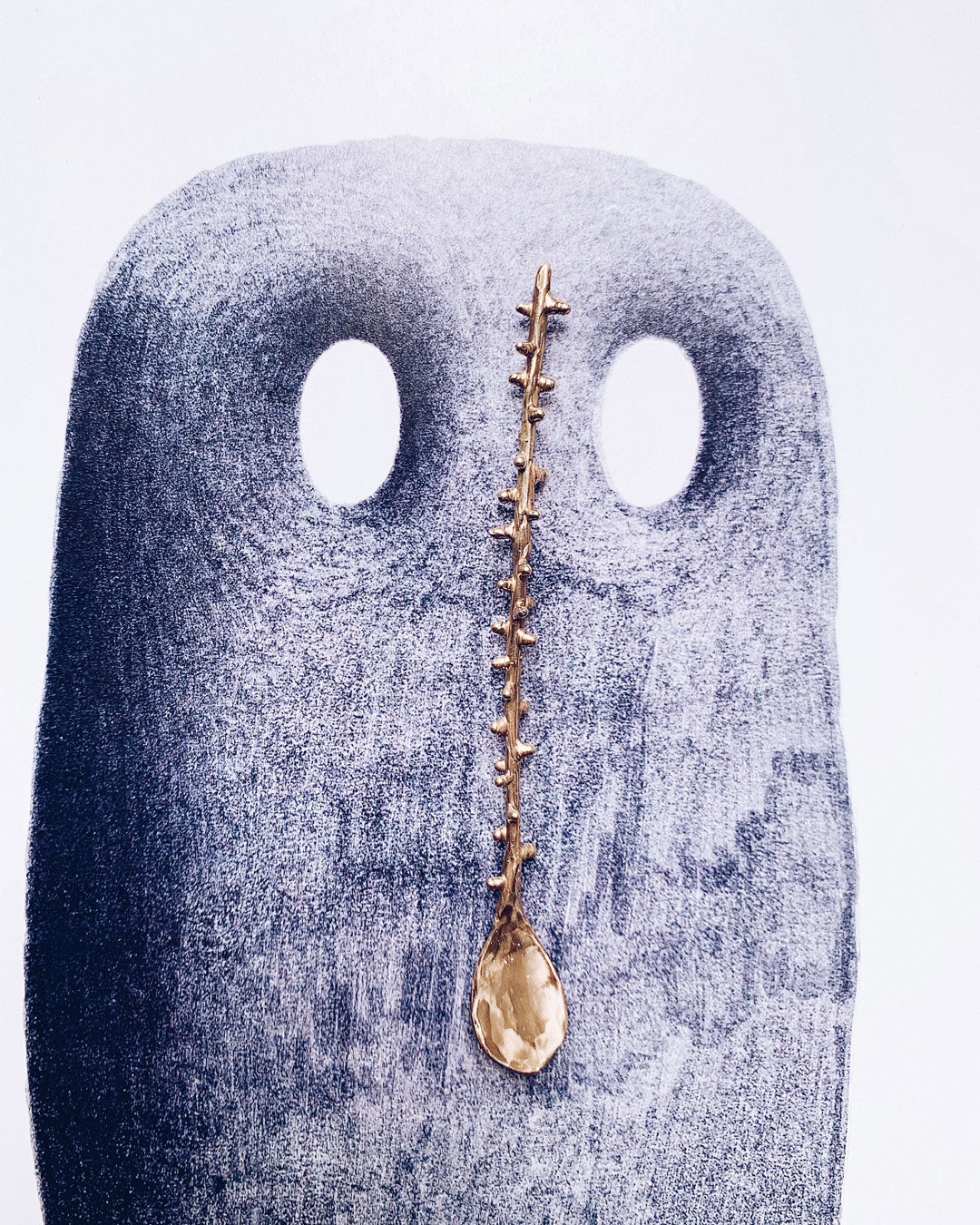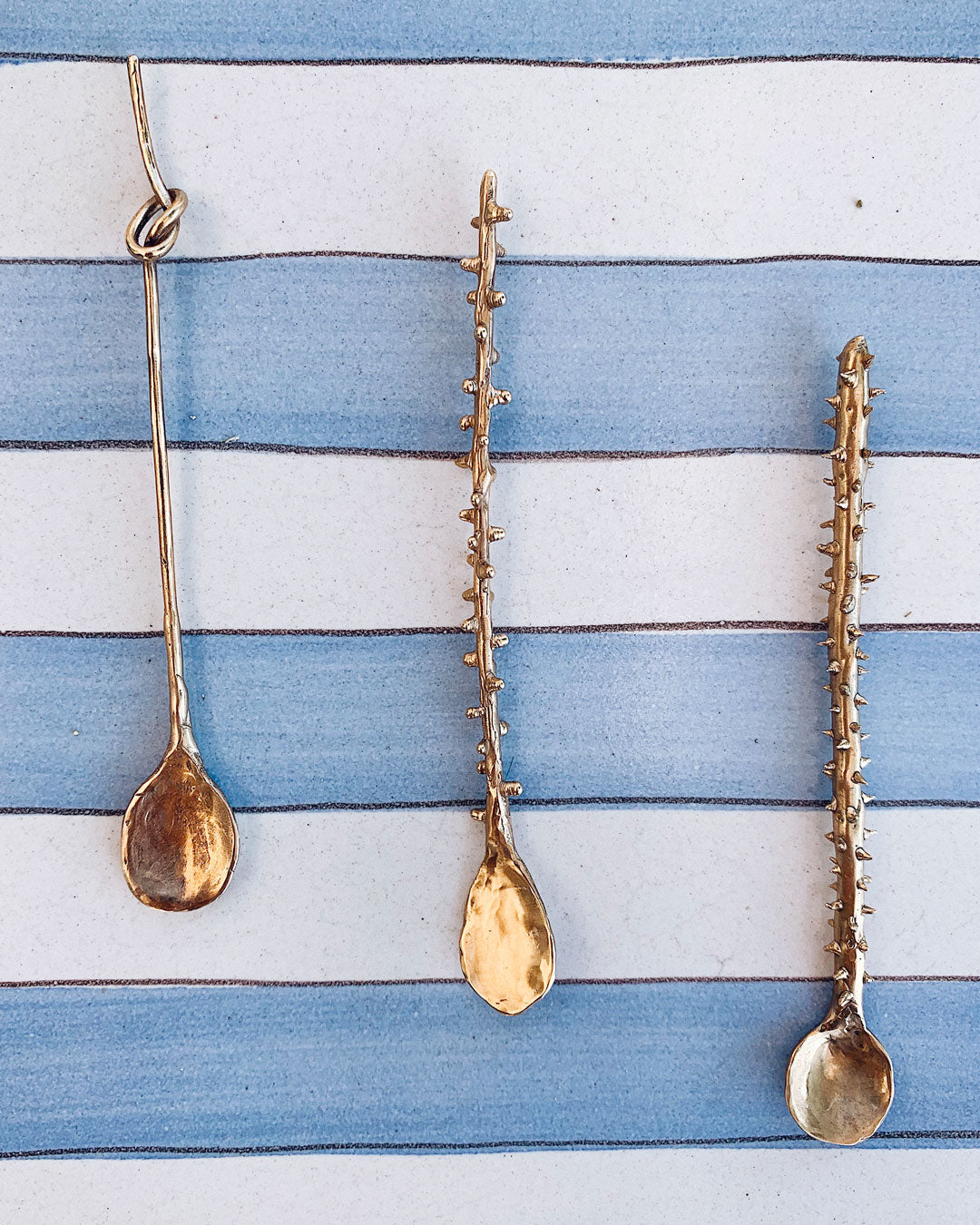 Obsessive Spoon
Made to order. This product will be crafted just for you ❤️
This product is made to order only. Shipping is expected within 4 weeks.
Obsessive Spoon is an handmade little spoon made of bronze. This spoon is part of the collection "Quarantina in Quarentena" is a series of spoons realized during the first pandemic lockdown (March 9th – May 4th, 2020) in Rome, Italy.
Obsessive spoon, when the covid-19 virus was obsessively taking over our lives.
Please note that each piece is handcrafted and will bare slightly unique characteristics while staying true to the style.
Crafted in Germany
Materials: Bronze
Technique: Lost-wax casting technique
Measurements:
1,4 cm L x 0,6 cm W x 12 cm H
Weight 7,5 g
Care & Manteinance:
Bronze items will tarnish naturally.

Cleaning:
- For a more thorough cleaning, first scrub with warm water and a mild liquid soap (lemon dish soap is perfect) using a toothbrush to remove dirt.

- To restore the metal's shine, soak it in boiling water with a little lemon juice for about 5 minutes. Rinse the spoon under warm water and remove any lemon residue with the help of the liquid soap and toothbrush. Dry your pieces thoroughly with a clean towel.

Shipping is FREE IN EUROPE over € 180.
Shipping cost below € 180 varies according to continent, in accordance with the following flat shipping rates:
Belgium, Germany, France, Italy, Portugal and Spain: € 11,99
Rest of Europe: € 15,99
UK & Switzerland: € 19,99 
USA: € 29,99
As a matter of fact, we do want to encourage you to shop local and support artisans from your own Country.
For the rest of the world, unfortunately we do not provide flat shipping rates. However, if you are really in love with TA-DAAN products get in touch with us and we will get back to you as soon as possible. ❤️