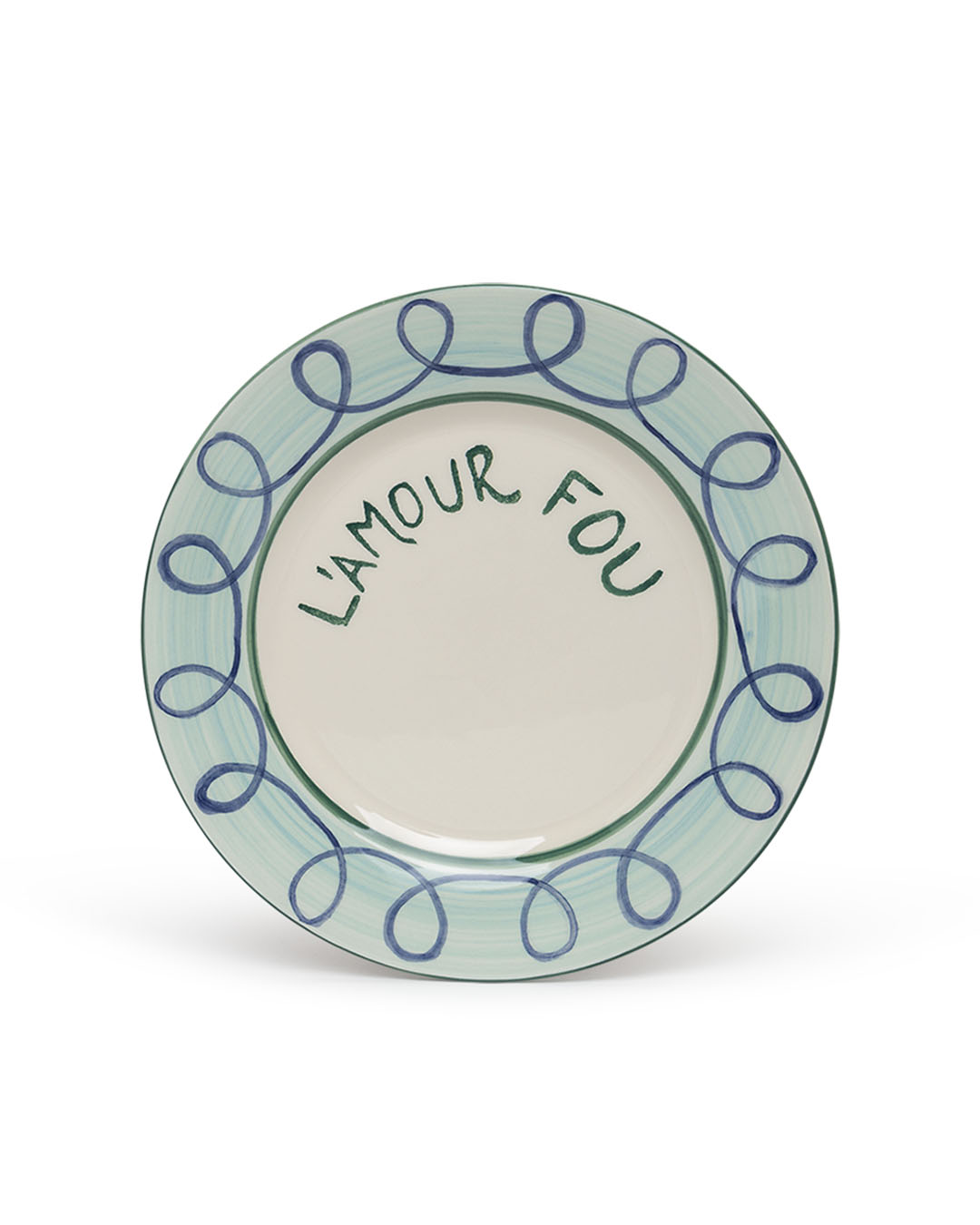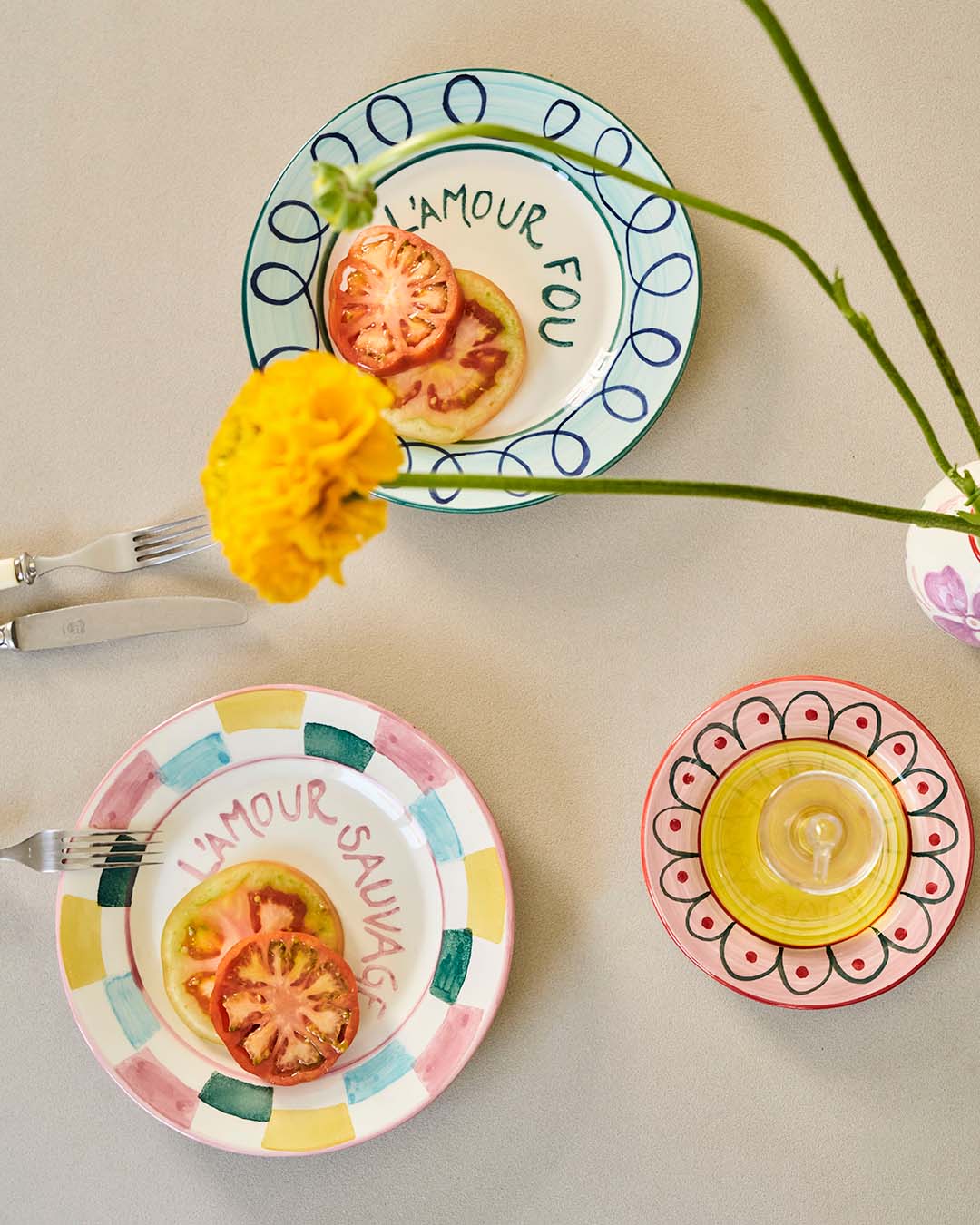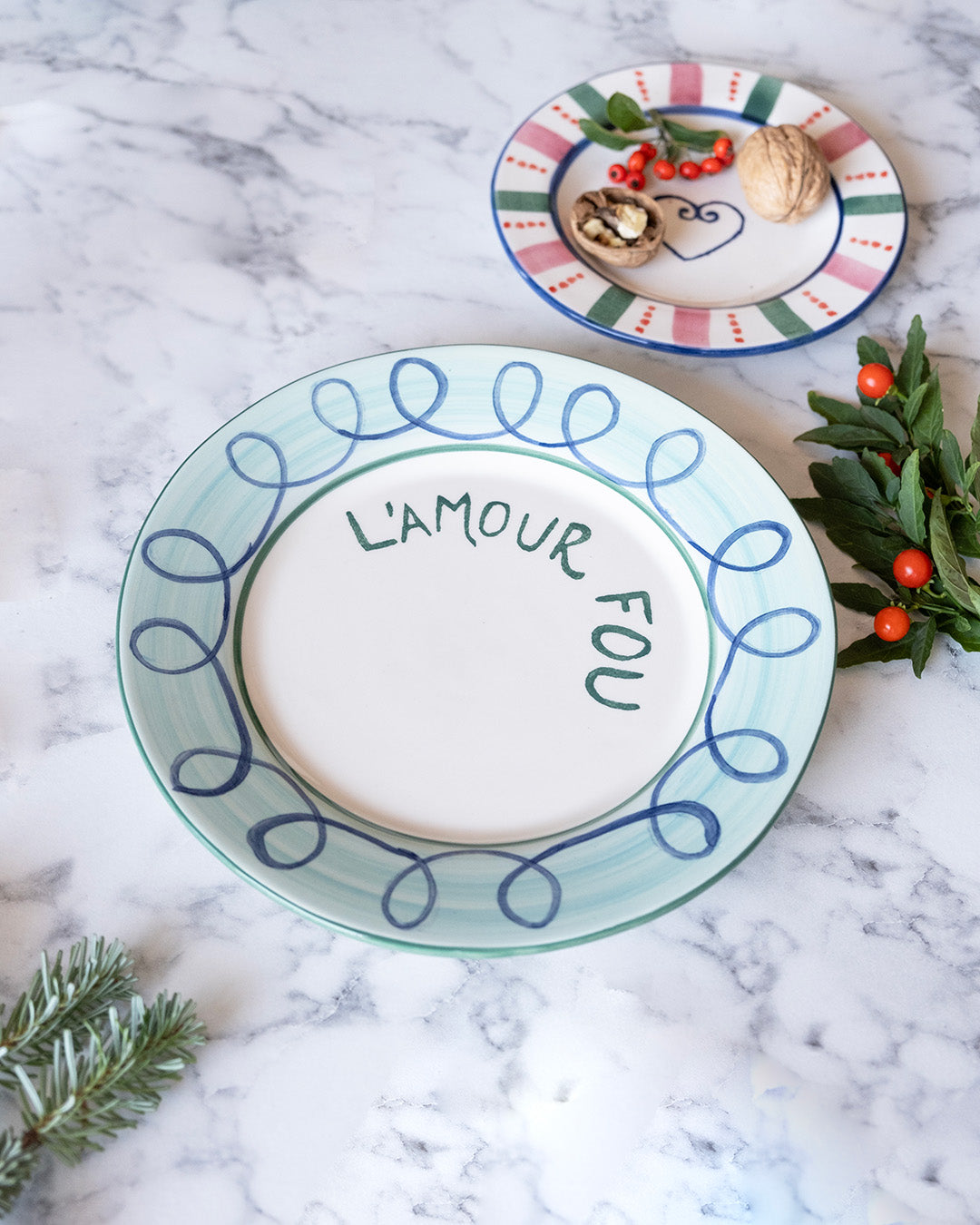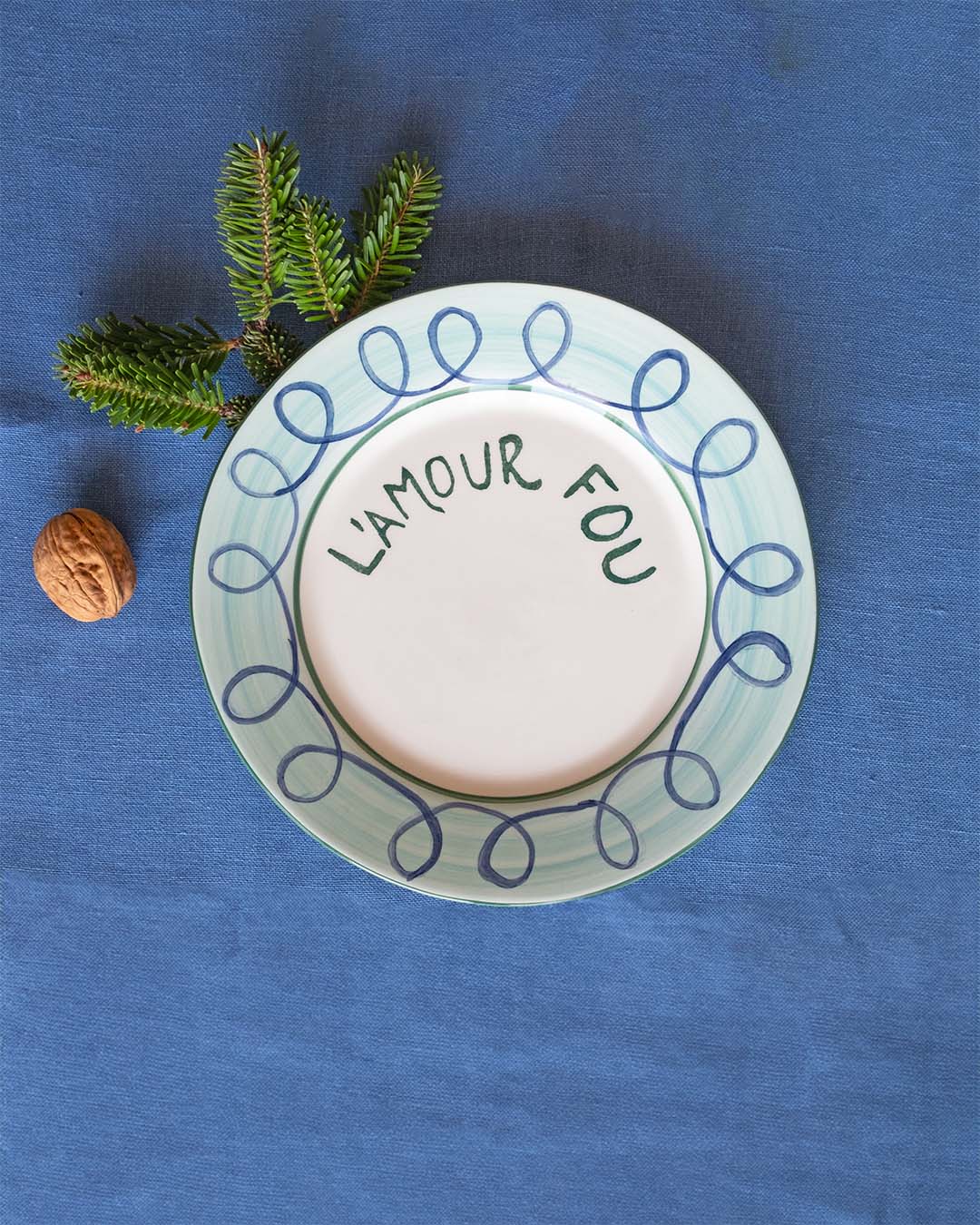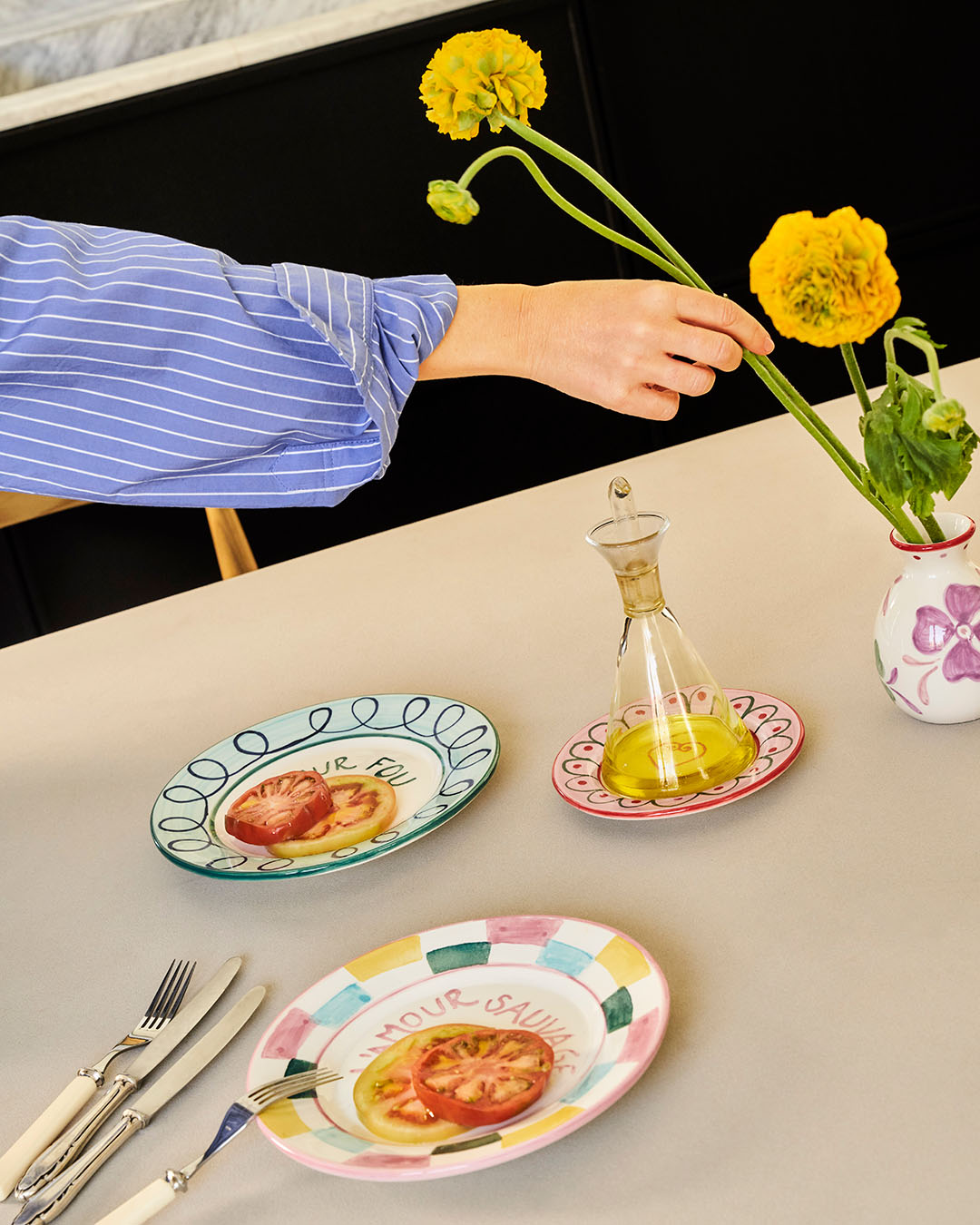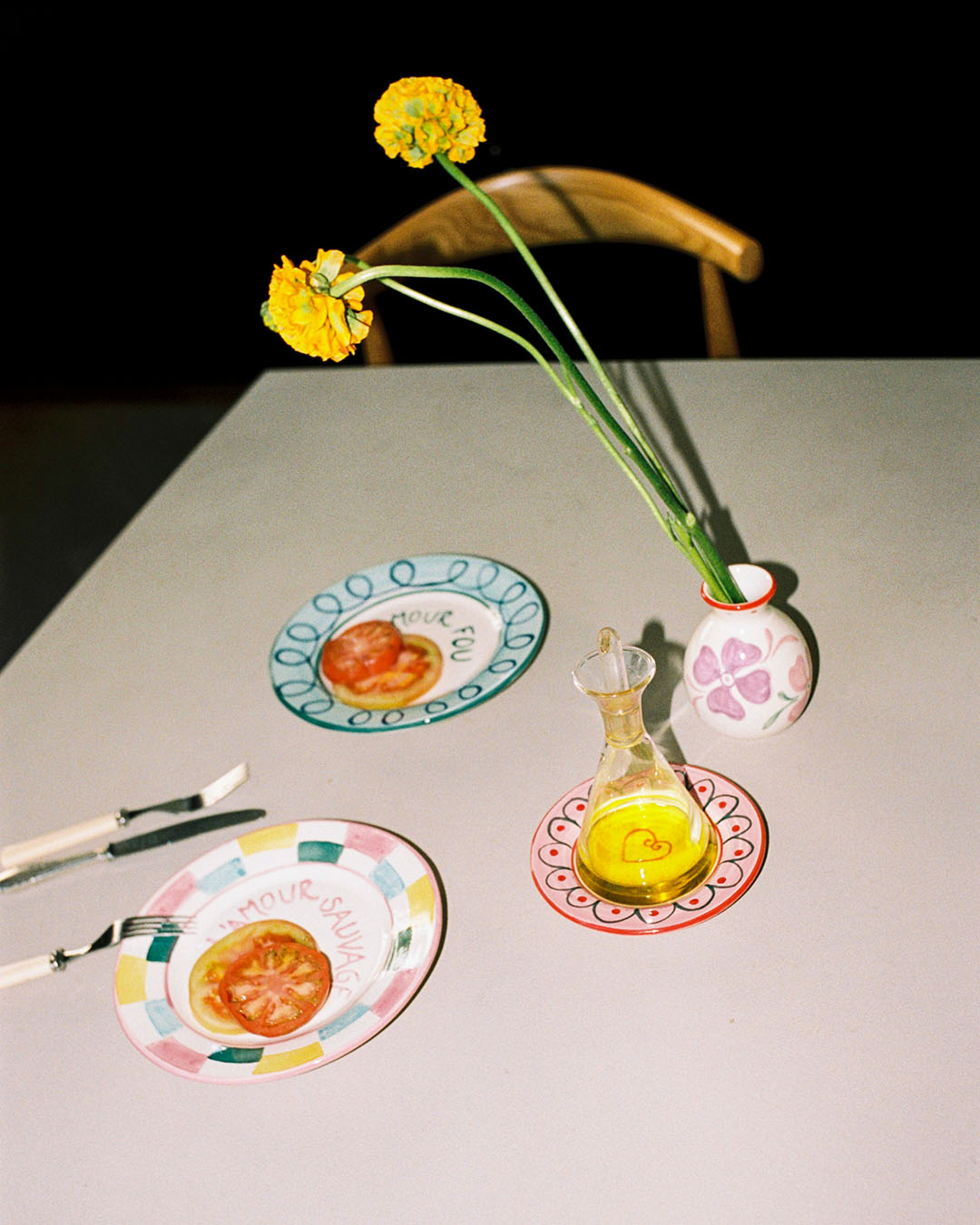 "L'amour fou" dessert plate
Please note: To boost the odds of your goodies arriving by December 25th, we recommend placing orders for in-stock items before December 12th.
Act fast – limited stock available!
Products are shipped between 4 working days (when in stock) and 4 weeks (if made to order).
Indulge in the magic of love with our 'L'AMOUR MAGIQUE' ceramic dessert plate. Measuring 22 cm, this plate boasts a modern and colorful design that will enchant your dining experience. Whether you're serving desserts like cakes, tarts or ice creams, appetizers like mini quiches or bruschettas, and salads or simply using it as a decorative piece, our 'L'AMOUR MAGIQUE' plate will elevate any table. Its versatile charm makes it a perfect companion for your culinary adventures. 100% artisanal and hand painted one by one.
Crafted in Spain
Materials: White clay; lead-free glazes and natural pigments.
Technique: Our ceramic pieces are the result of a long, complex and creative artisan process carried out manually by our craftsmen. From the collection of the earth to obtain the clay, to the exit from the kiln, in the second firing. The hands of our artisans mould the clay into the desired shape, and later each piece is decorated and painted freehand, one by one. Because our ceramics are handmade and hand-painted one by one in small batches, each piece may vary slightly in its design or colour. We believe that what might appear as an imperfection is in fact what makes each piece authentic and unique!
Measurements:
Diameter Ø 22 cm
Weight 560 g

Care & Manteinance:
Our ceramics are fridge, dishwasher and microwave safe. Nevertheless, dishwashers and microwaves expose the ceramics to maximum temperatures that over time might cause the appearance of lines and loss of shine. This is a common process for white clay and ceramic pieces: they often end up showing their age, which makes them beautiful and special too!

In any case, if you want your pieces to last longer, we recommend washing them by hand with soap and water and allowing them to dry gently. Not suitable for oven use.
Shipping is FREE IN EUROPE over € 180.
Shipping cost below € 180 varies according to continent, in accordance with the following flat shipping rates:
Belgium, Germany, France, Italy, Portugal and Spain: € 11,99
Rest of Europe: € 15,99
UK & Switzerland: € 19,99 
USA: € 29,99
As a matter of fact, we do want to encourage you to shop local and support artisans from your own Country.
For the rest of the world, unfortunately we do not provide flat shipping rates. However, if you are really in love with TA-DAAN products get in touch with us and we will get back to you as soon as possible. ❤️
Sustainability guarantees