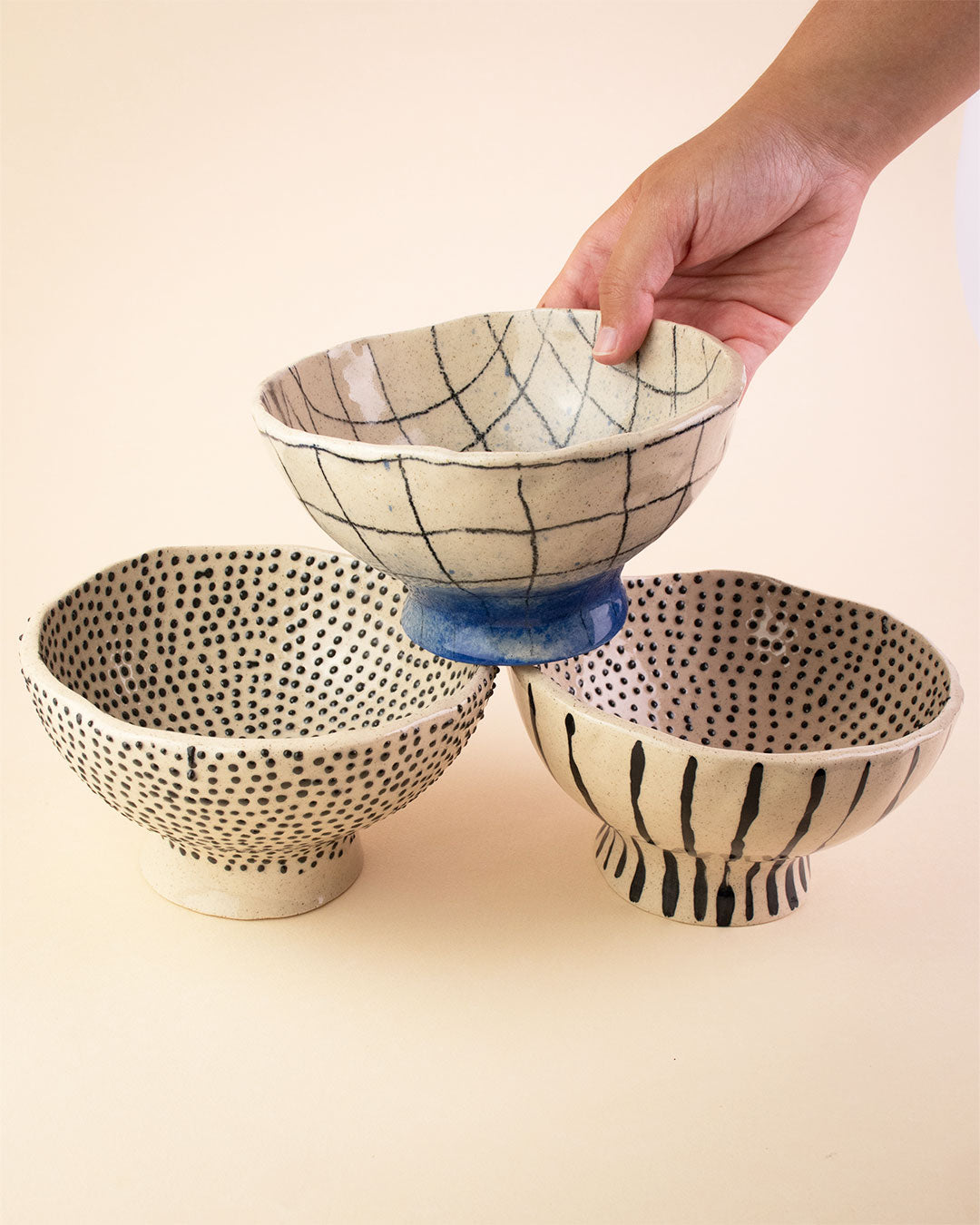 Irregular bowls MIX - Set of 3 (-15%)
Act fast – limited stock available!
Products are shipped between 4 working days (when in stock) and 4 week (if made to order).
These ceramic bowls are handmade by Alice del Ferraro in Italy, near Rome. They seamlessly blend contemporary art with functionality and showcase the perfect harmony between artistic design and practicality. Their non-perfect shape and material surface make it a truly unique piece. This versatile bowl can be used to serve soups, appetizers or fruit for example.
Each bowl may differ slightly from the photo, especially those decorated with porcelain drops. Each drop is left to the inspiration of the moment.
That small imperfections such as marks or irregularities are part of the artisanal technique and material's nature, which gives it uniqueness and makes the entire collection unrepeatable.
Crafted in Italy
Materials: Ceramic
Technique: The bowl is hand-built with ceramic slabs.
Hand decorated with engobes and glaze.
Measurements:
Diameter 14 cm, Height 9 cm
Weight 470 g
Care & Manteinance:
This piece is made with resistant and durable materials, but they will always appreciate pampering and care.
It is suitable for microwaves and dishwashers, however, handwashing is recommended.
Shipping is FREE IN EUROPE over € 180.
Shipping cost below € 180 varies according to continent, in accordance with the following flat shipping rates:
Belgium, Germany, France, Italy, Portugal and Spain: € 11,99
Rest of Europe: € 15,99
UK & Switzerland: € 19,99 
USA: € 29,99
As a matter of fact, we do want to encourage you to shop local and support artisans from your own Country.
For the rest of the world, unfortunately we do not provide flat shipping rates. However, if you are really in love with TA-DAAN products get in touch with us and we will get back to you as soon as possible. ❤️
Sustainability guarantees