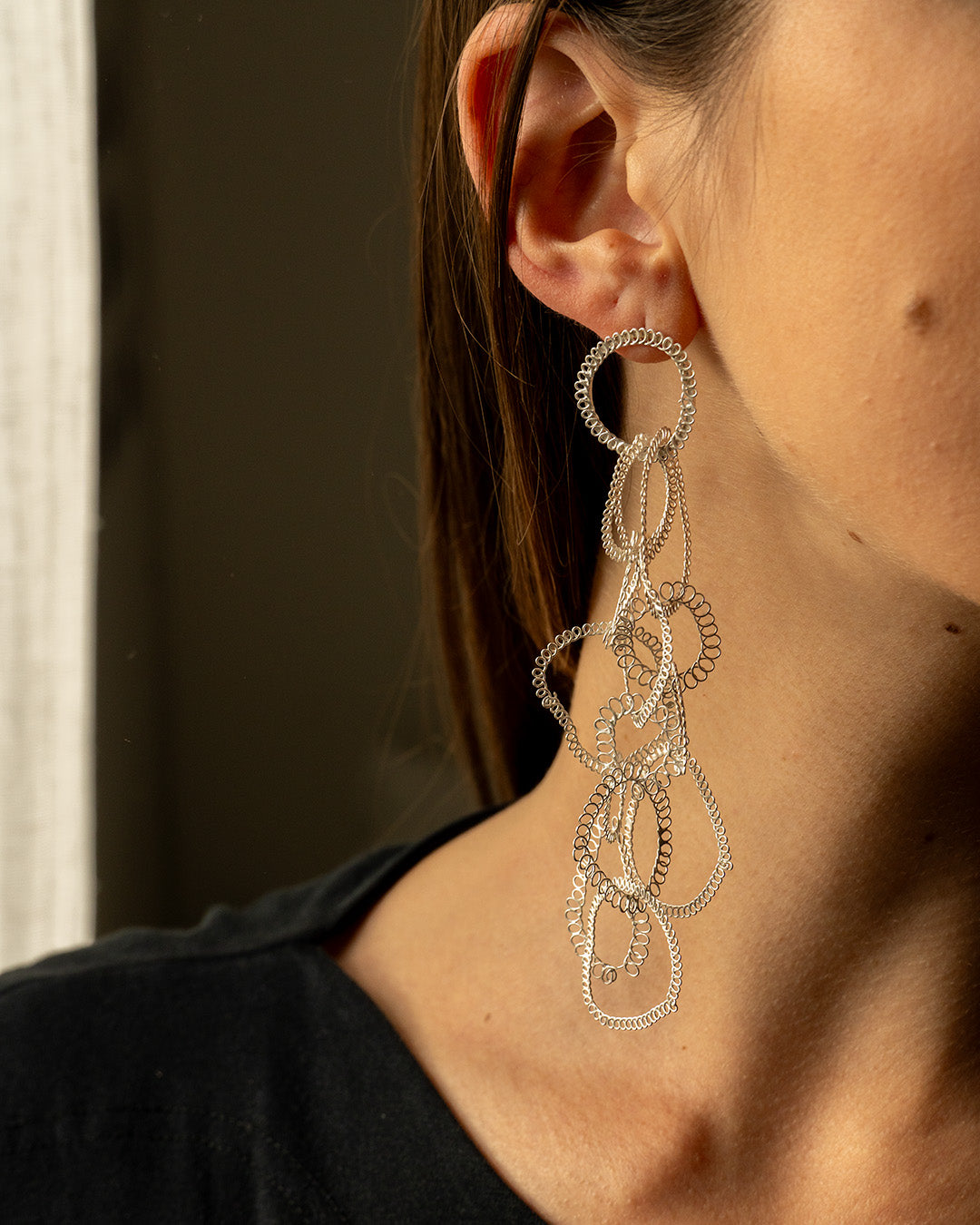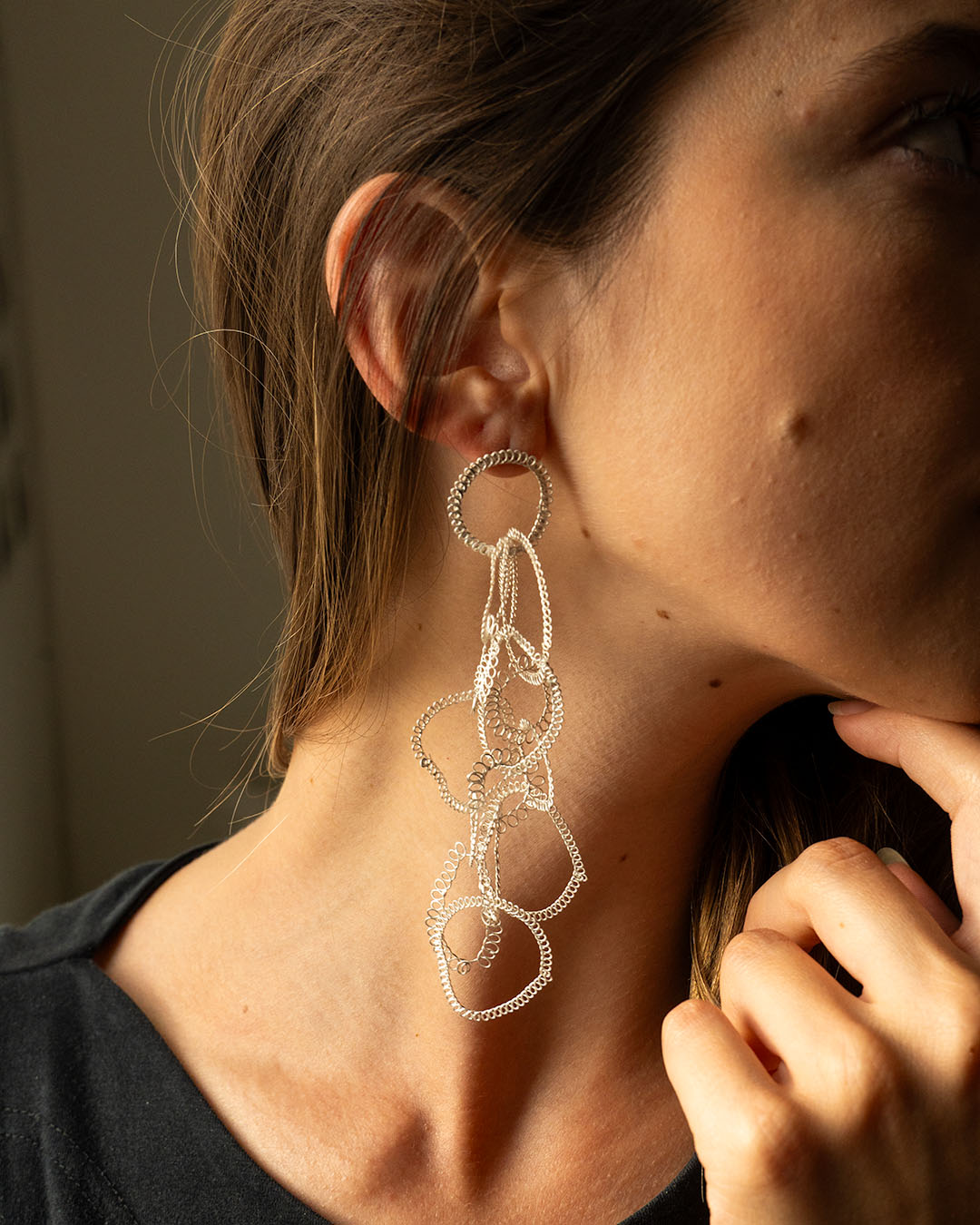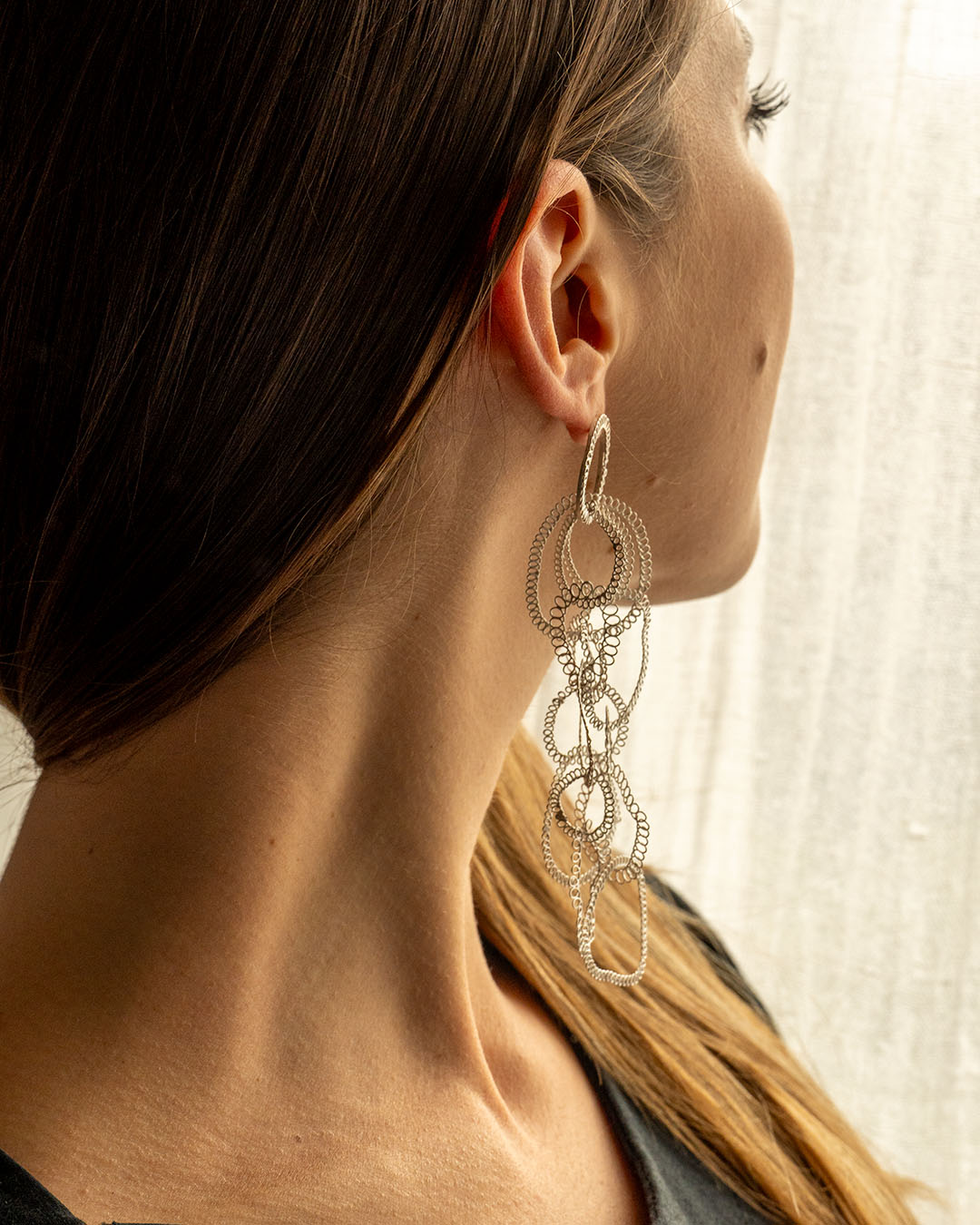 Long Chain Silver Filigree Earrings
These delicate earrings are made using the ancient technique of filigree, revisited in a contemporary way. They are very voluminous yet extremely light pieces, that emit a beautiful light sound when being worn. They are made in sterling silver, each wire has been carefully bent and formed into this chain-like design by Carla Movia.
They have been handcrafted following extremely time consuming ancient methods, which means that Carla Movia has started from silver granules which she alloyed and melted, then made her own wire and proceeded on to make the pieces.
Filigree making feeds the interest that Carla Movia has towards intricate ancient aesthetics: its floral and feminine nature, its slow and meditating process on one hand fulfils her curiosity of ancient techniques and on the other it results in delicate yet complex pieces which she's naturally drawn to. Carla Movia's work is characterised by a constant research in finding a balance between these two contrasting aspects, in an attempt of rethinking filigree as an element of construction and not merely means of decoration.
Crafted in Italy
Materials: Sterling silver
Technique: Ancient filigree technique
Measurements:
10 cm L x 4 cm W x 1 cm H
Weight 12 g
Care & Manteinance:
When possible store it in a box - exposing sterling silver to air for long periods will accelerate the natural oxidation process of the metal.
Treat with care - don't squeeze, drop or pull
When you decide to wear them, make sure they are the last accessory you put on, as lotion, body products and perfume will contribute in getting them dirty.
Shipping is FREE IN EUROPE over € 180.
Shipping cost below € 180 varies according to continent, in accordance with the following flat shipping rates:
Belgium, Germany, France, Italy, Portugal and Spain: € 11,99
Rest of Europe: € 15,99
UK & Switzerland: € 19,99 
USA: € 29,99
As a matter of fact, we do want to encourage you to shop local and support artisans from your own Country.
For the rest of the world, unfortunately we do not provide flat shipping rates. However, if you are really in love with TA-DAAN products get in touch with us and we will get back to you as soon as possible. ❤️