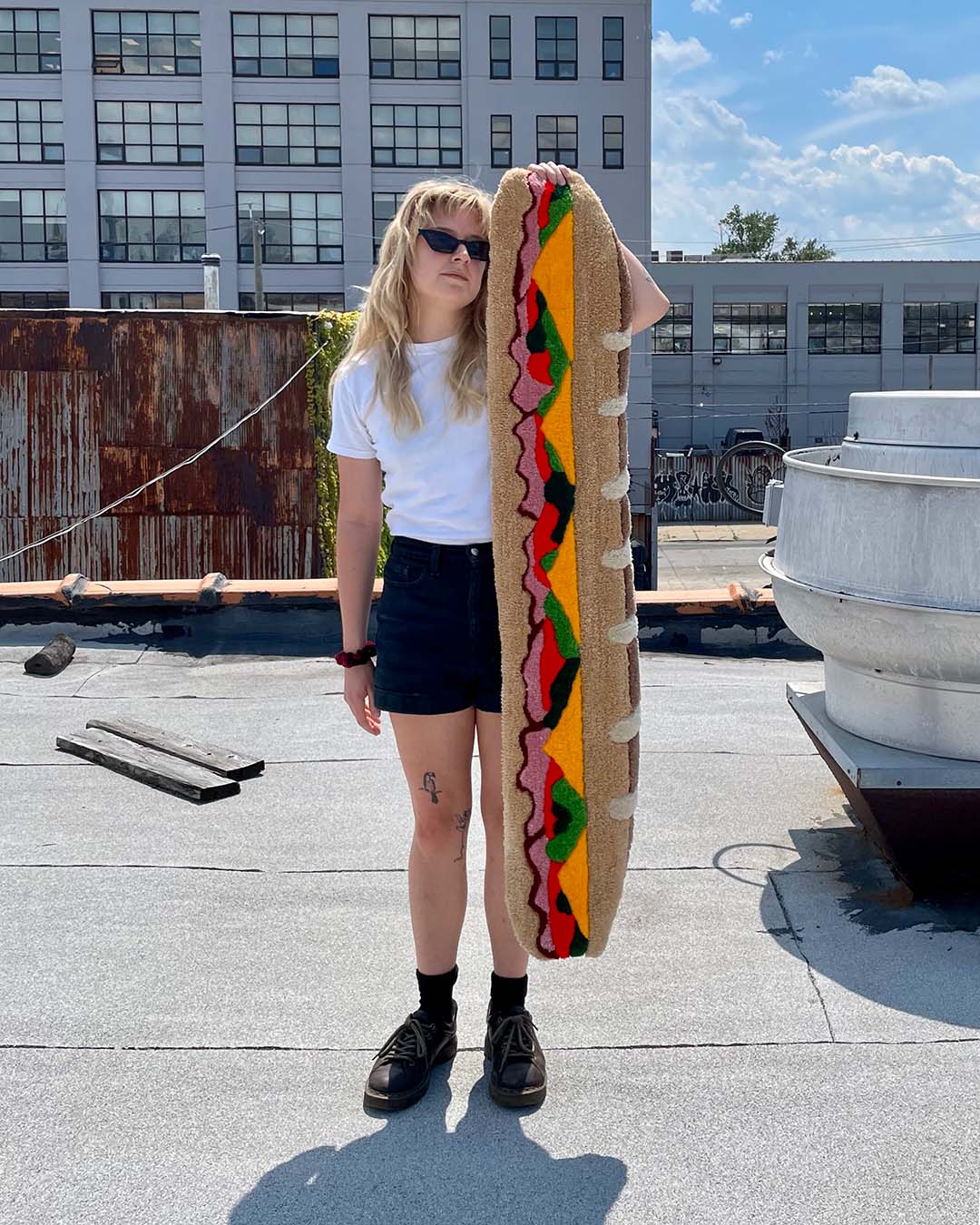 ANGELA SLIDER
RugBurn
Berlin, GERMANY
"Utilitarian Absurdities"
Angela Slider started her journey in fiber arts as a weaver and embroiderer in California, where she was born and raised. She was very taken with the art of tufting, as it drastically sped up the process of weaving a rug or tapestry, and in 2019 with the purchase of her first tufting gun and a move to New York city, RugBurn was born.
Her work is heavily influenced by the Americana that surrounded her- especially all things food related, such as restaurant signage or the packaging of her favorite childhood snacks. In larger tapestries, evidence of her weaving background can be seen in the folk art influence of depicting of everyday activities.
Evidence of her time in New York is also apparent in her work, with many bodega and deli related items resurfacing in her tongue-in-cheek designs.

She works very experimentally, sketching designs freehand onto the frame and allowing the pieces to take on their own personalities organically. What was once her trusty first tufting gun has since been taken apart and modified to create new textures and depths to her rugs.
more about RugBurn
Value in the details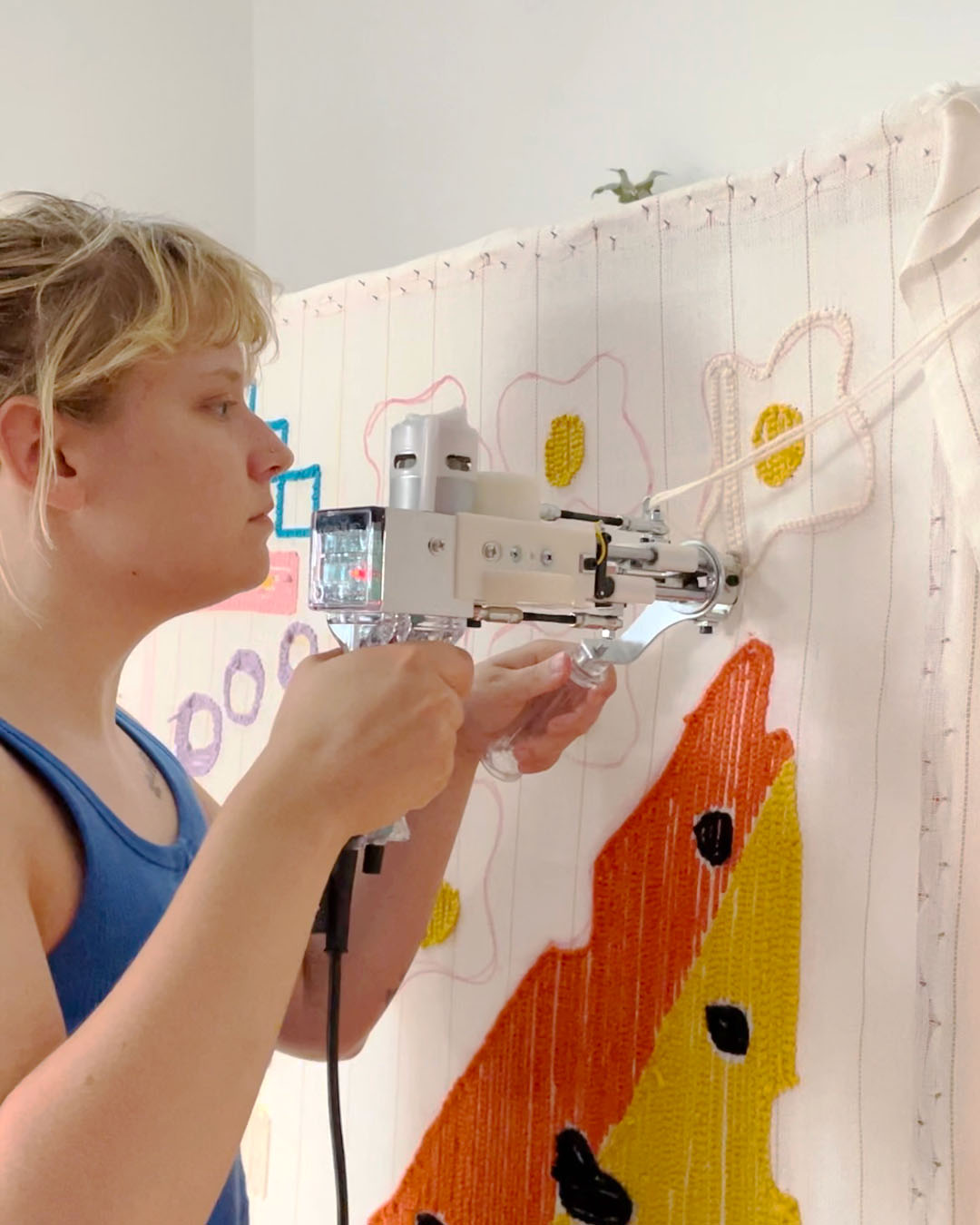 The Art of Handcrafted Rugs: Meticulous Detailing
Each piece is freehand sketched onto the tufting frame, resulting in slight variations in each piece that make them unique. A tufting gun is used to create the majority of the plush rugs, as well as hand stitching for small details. the fibers are then carved to create clean lines between the layers. Depending on the size and amount of detail, the rugs can take more than 2 hours to create.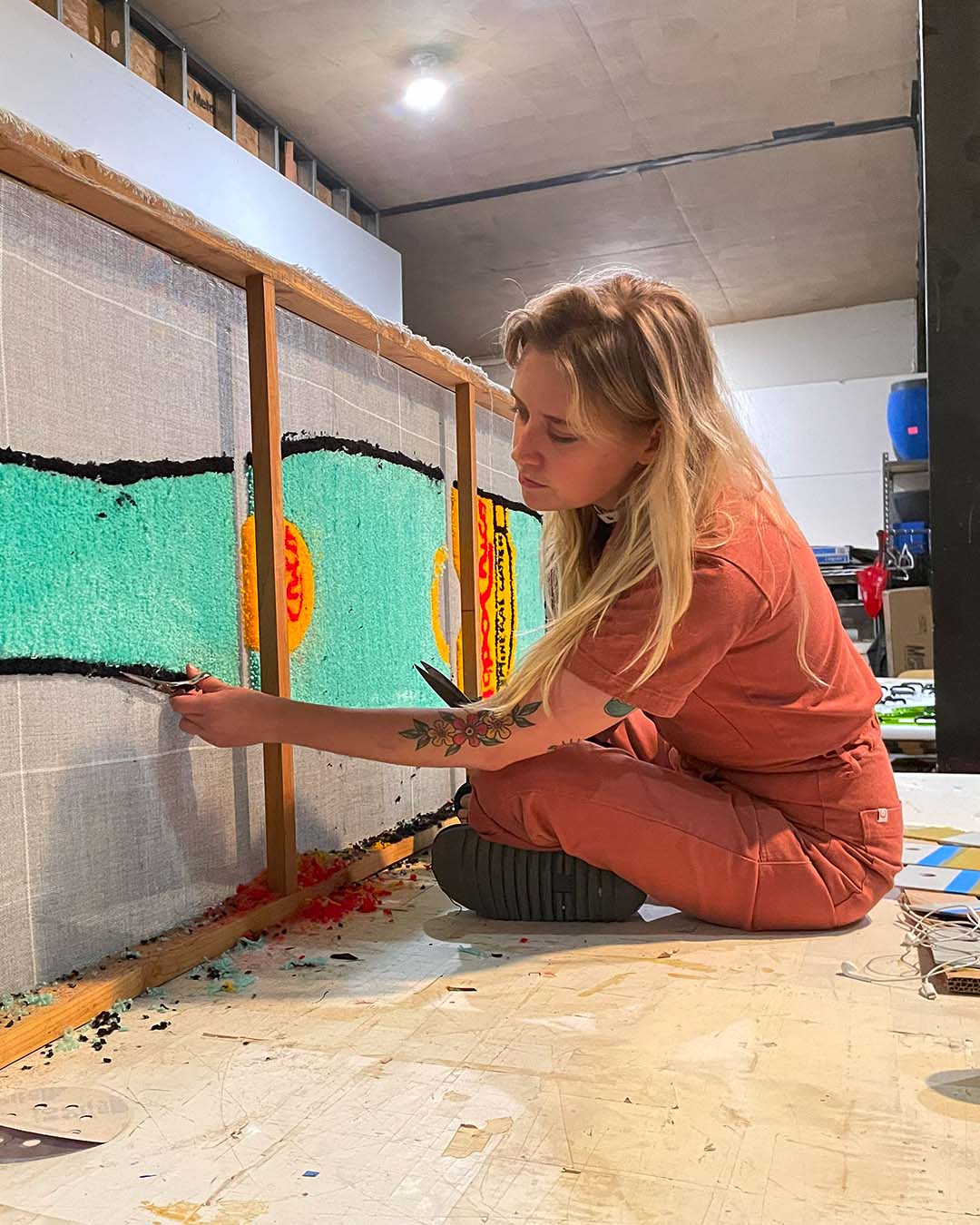 Durable New Zealand Wool & Zero Waste Backing
All of the rugs are crafted with New Zealand Wool for durability and quality. The wool will retain its colors and is water and dirt resistant! All rugs are backed with zero waste fabric saved from heading to a landfill. Only high quality fabrics are selected to back the rugs.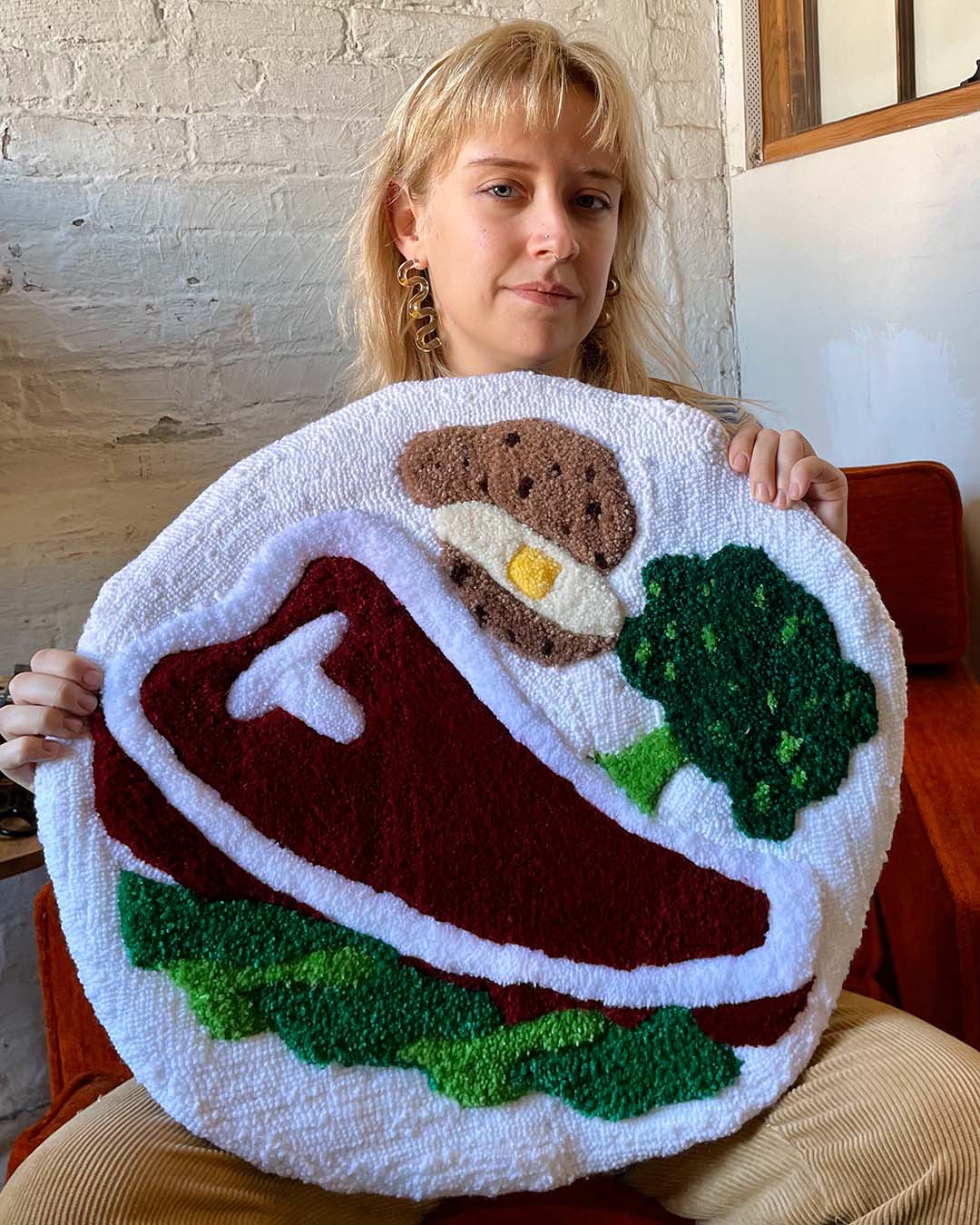 Nostalgic Delights: Sustainable Artistic Creations
RugBurn strives to create fun and nostalgic art pieces with sustainability in mind, to bring warmth and indulgence into your home. In an act of dedication to the craft, the food item is eaten before being designed, to research the exact colors and textures the piece should have.
Due to their handmade nature, the rugs should only be hand washed if necessary.
Absolutely! Please reach out to TA-DAAN via chat or email and we will do our best to meet your needs.
Depending on the size and weight of the rug, either a sawtooth hanger or D ring hook with be stitched in. Larger pieces will have up to three hooks.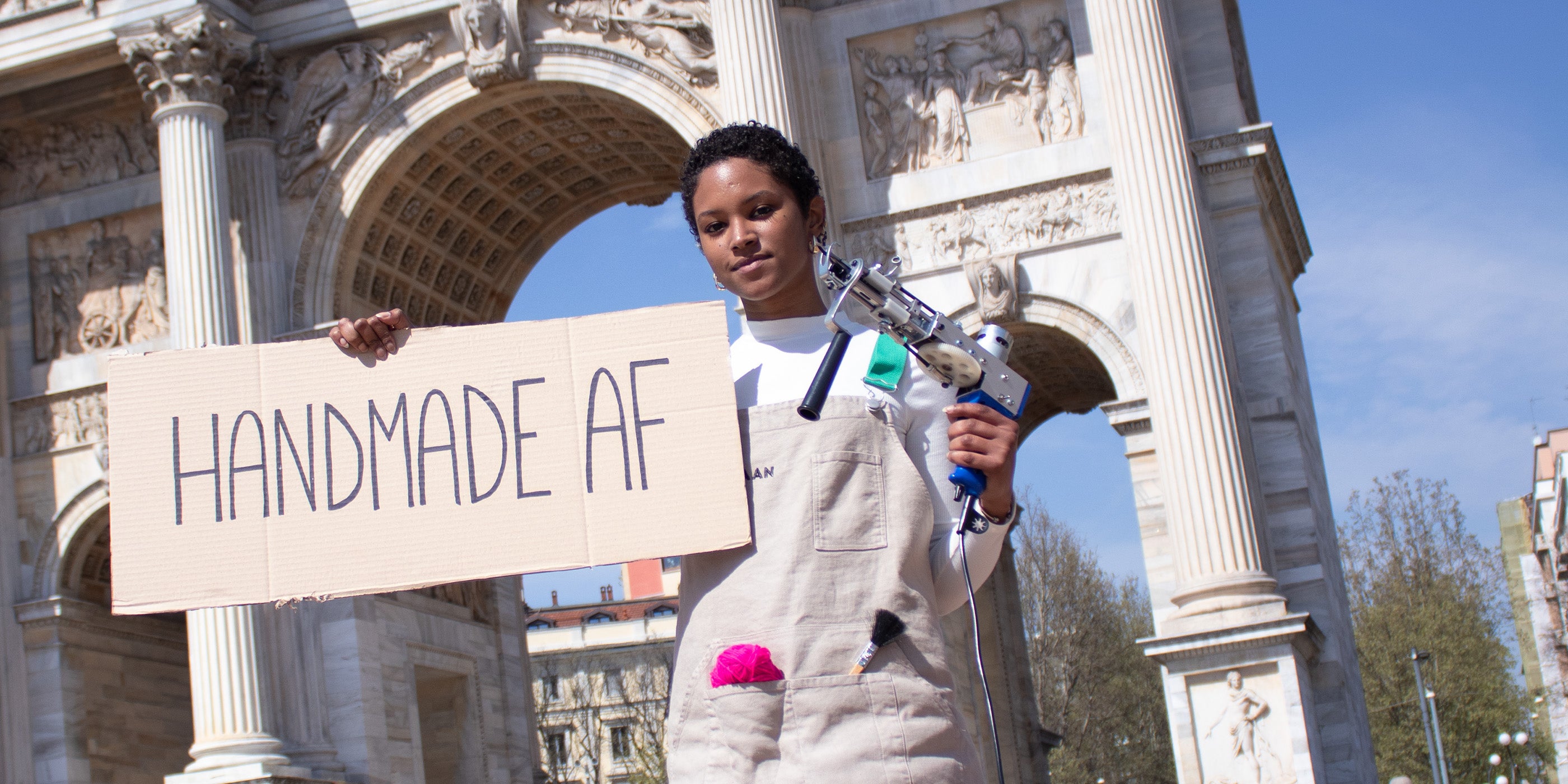 MORE THAN JUST PRODUCTS
An ever growing community
Artisans, designers and creative minds are the protagonists! Do you want to join the community? Reach out to us!