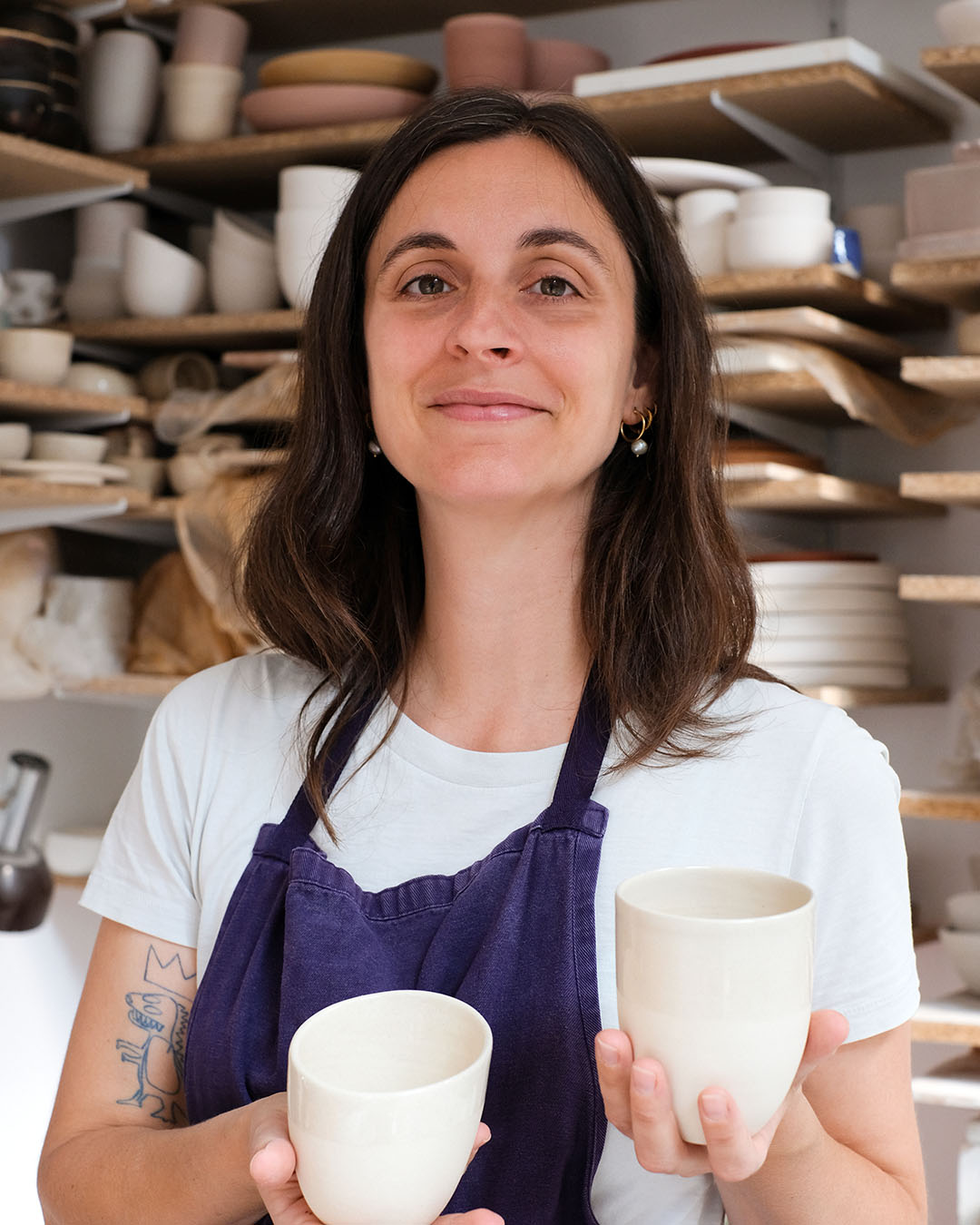 MADELEINE MARTIN
Madeleine Martin Céramique
Le Pré Saint Gervais, FRANCE
"The ugly can be beautiful. The pretty, never." Paul Gauguin

This quote says that beauty (as is ugliness) is something powerful, durable. Unlike the pretty - which will never have the power to be beautiful. Madeleine aims for her pieces to be rather beautiful than pretty… and cause lasting pleasure, which does not wear out over time.
Madeleine Martin lives and works in Le Pré-Saint-Gervais, on the outskirts of Paris. In 2016, she discovered the immense pleasure of getting her hands dirty (with clay!) and of creating unique objects - which serve her other great passion: eating well. Former communication manager in environmental associations, she decided in 2021 to dedicate her life to ceramics.
Both French and Italian, Madeleine grew up in two cultures where the pleasure of the table is central. She creates dinnerware designed to make the meal a moment that is both beautiful, convivial and gourmet.

She passionately loves her job: whether it be creating a piece directly from her hands or sharing the pleasure of ceramics with her students - or kids! The pieces she creates aim at bringing a little piece of grace in your everyday life: a chance to appreciate your coffee or your meal - and the object you were kind enough to gift yourself!
more about Madeleine Martin Céramique
Value in the details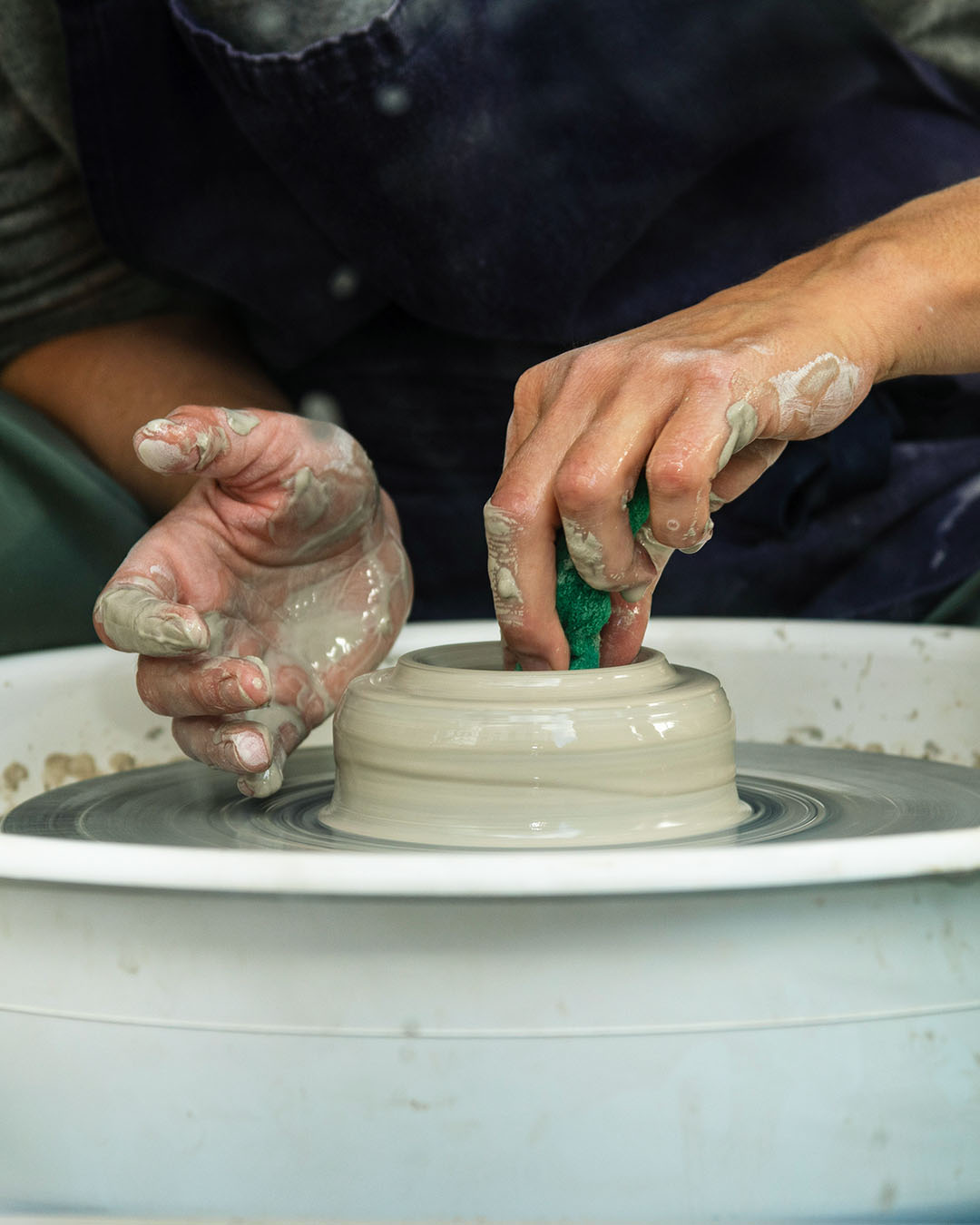 Madeleine's Wheel Throwing Journey
Madeleine specializes in wheel throwing, an intricate process comprising five key steps. Initially, she shapes a ball of clay into cups or plates on the wheel. After a few days of rest to reach the desired consistency, she refines the piece, including sculpting the foot, with the piece inverted on the wheel. Subsequently, the item undergoes low-temperature firing at 980°C, followed by glazing and high-temperature firing at 1,250°C.

Working with clay demands patience, respecting its slow drying pace to prevent warping or cracking. Madeleine embraces this extended timeline, with each cup taking 3-4 weeks to complete. She prefers crafting small series, typically 6-10 pieces, allowing her to maintain a focused approach and provide meticulous care to every creation.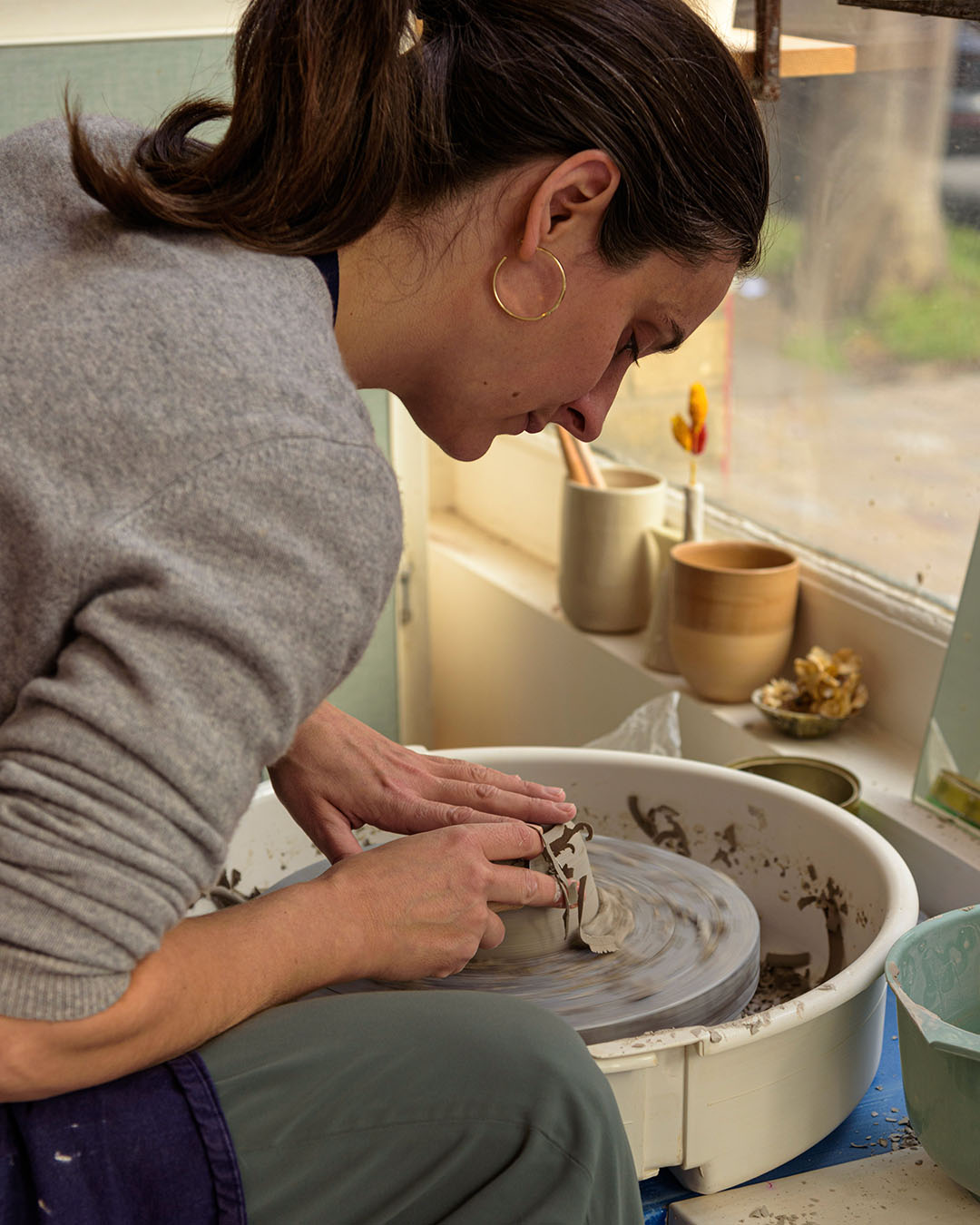 Artistry in Clay: Exploring Sandstone Creations
The pieces are made of clay, and more precisely of sandstone, which is fired and glazed.

The Creamy Clay and Red Xing Collections play with the contrast between the finely rough clay that is left bare, and the shiny transparent look of the glaze.

The Snowflakes & French Toast Collection is characterized by the use of glazes with more complex shades and reflections - partly because they contain metallic oxides, and partly because they are layered in superposition.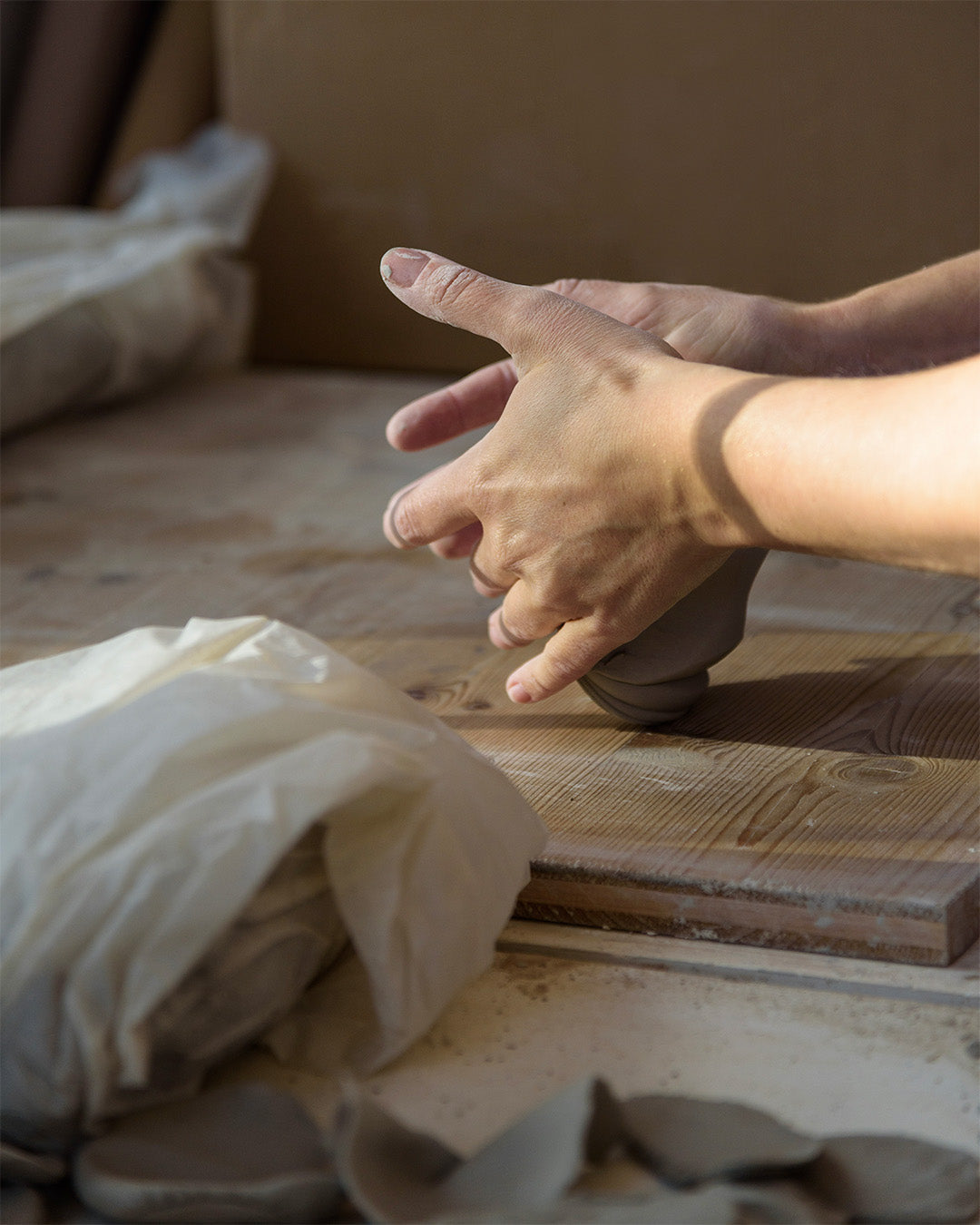 Everyday Elegance: Madeleine's Creations for Daily Delight
Madeleine aims at bringing a tiny bit of beauty into people's day. This is why she creates everyday objects, in simple-to-use shapes, but with an extra touch of grace. This can come from a specific shape, a shade or a pattern that provokes the eye.
The pieces are not always "easy" - they would not necessarily "pop" in an Instagram feed by their bright color or extravagant shape. Their quiet poetry is better appreciated in real life, and their beauty is revealed gradually, over time and use.
The goal is that every morning, while having breakfast, you would say to yourself "oh hey, I hadn't noticed that shade there…!" (or that snowflake, or that grain of earth…). Drinking your coffee in a beautiful cup, which you have taken the time to choose and appreciate, is taking care of yourself.
Of course it is :) Use your dishes and cups as you are used to. Remember that the ceramics were fired at 1 250°C: the dishwasher and the microwave are like a caress to them.
Yes and no. Once again, they can be subjected to a temperature of 1 250° without being damaged. But firing in a ceramic oven lasts 28 hours - because the rise and then the fall in temperature are very long in order to avoid thermal shocks. While the temperature rise for domestic oven use can be 200° in 30 minutes…
It is therefore not possible to cook your chicken directly on your plate - either the chicken would be very dry or the plate would break under the thermal shock ;)
Absolutely! The pieces are made of sandstone from France or Spain, white or red. Sandstone is a "high temperature" clay: it means that it is fired at over 1 200°C, which makes it particularly strong and suitable for everyday use.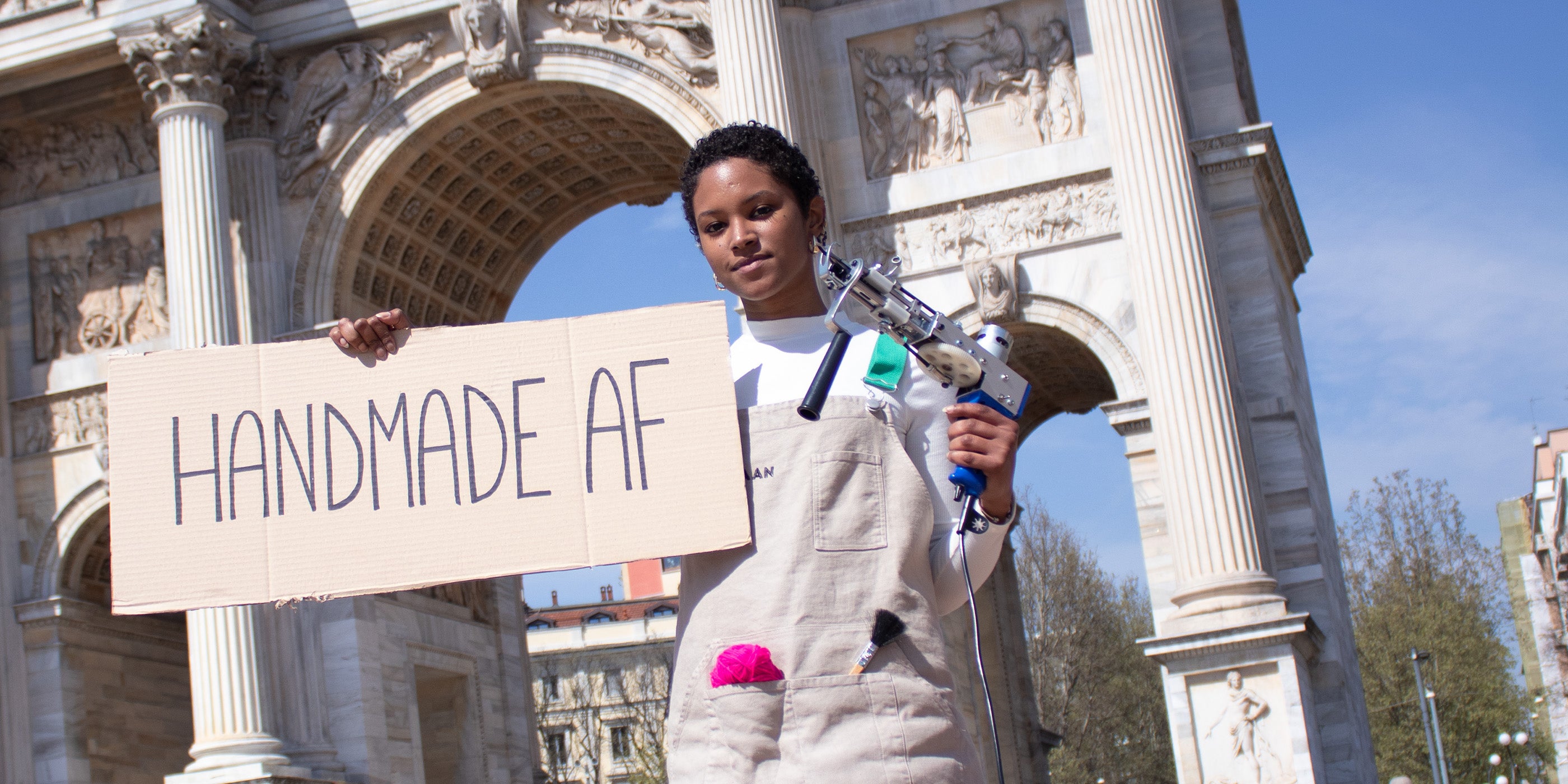 MORE THAN JUST PRODUCTS
An ever growing community
Artisans, designers and creative minds are the protagonists! Do you want to join the community? Reach out to us!