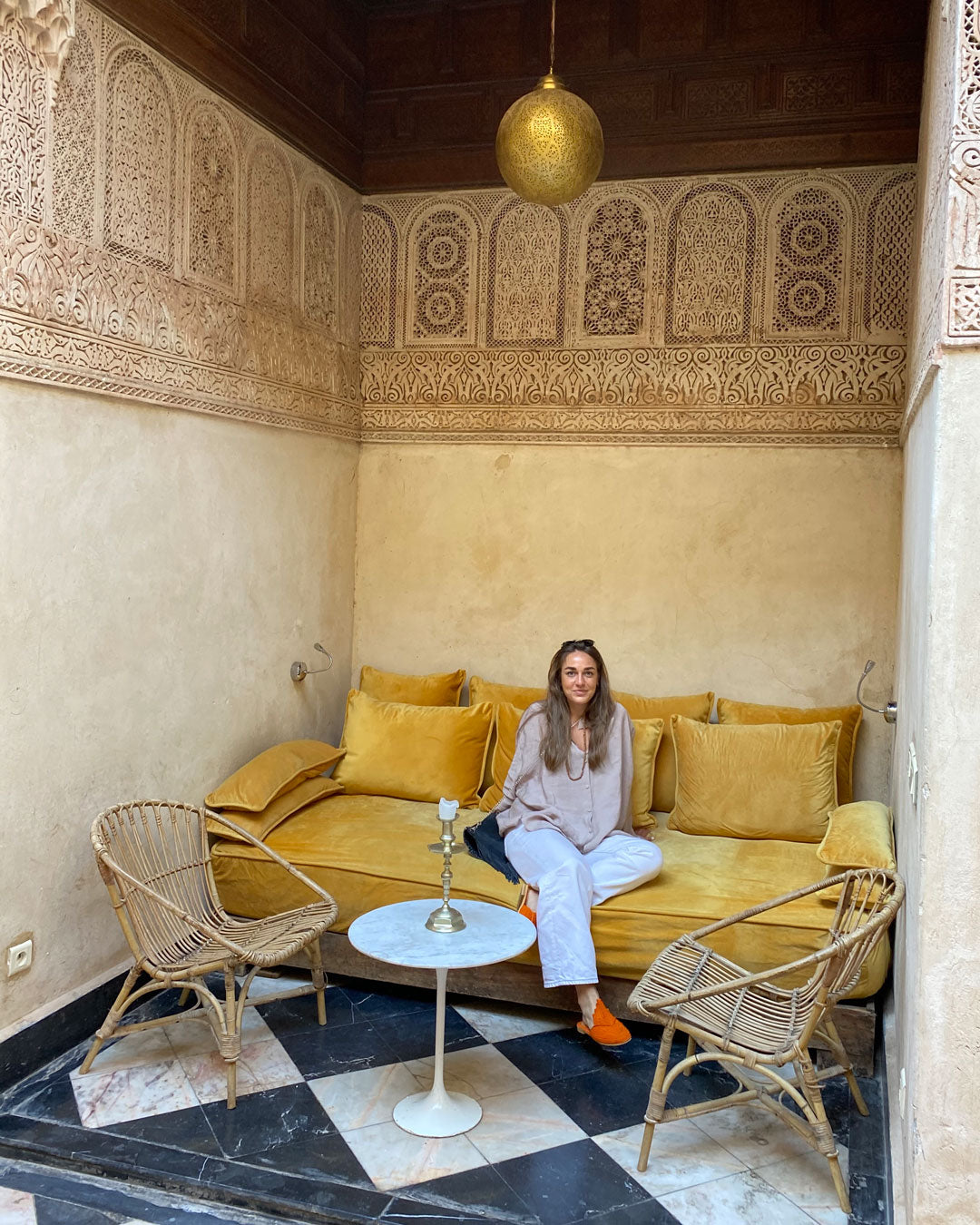 ROSELLA SORAVIA
Lalam Morocco
Berlin, Germany
"I want my audience to remotely experience the exceptional taste and handcraft of the souk. I remain dedicated to learning from these exchanges, so Lalam can be a bridge not only between cultures - but also between mentalities."
Lalam brings Moroccan culture to you.
Indeed, the goal is to make unique pieces from Morocco accessible to a community that welcomes diverse taste whilst also embracing their cultural context.
Morocco's rich cultural identity was influence by post colonial ideologies that are still practised today and inspired the development of a variety of exceptional goods that are sold in the Souks.

Souks are the traditional marketplaces of Morocco's cities, which carry a sheer wealth of energy under austere brick archways and high pink walls. Amongst the winding alleys, you get lost on your own adventure, all the while capturing memories of a sensory overload.
Actually, it is a place that can never quite be explained until visited.
more about Lalam Morocco
Value in the details
Each Souk store has their own tailors
Most products from moroccan crafts are handmade items, which often use traditional tools that add authenticity and uniqueness to the creations. Moroccan embroidery has seven recognized styles names after the towns where they evolved. Each style has its own lexicon of designs and motifs with its own distinct colors, stiches and techniques.
The tailors of Lalam work with plait stich with details in back, cross and running stitch.
Natural colours only
Fabric is sourced all around Morocco. Mainly in Agadir, Casablanca and Fes. Once the different kinds of Fabric are sourced, they died in natural dye to create fabulous colors with minimal impact on the natural environment. Therefore these textiles not only carry eco-friendly properties but also have special tones and effects as well as the rich craft heritage they carry along. These techniques for dyeing with plants, minerals and insects have long been perfected by our ancestors.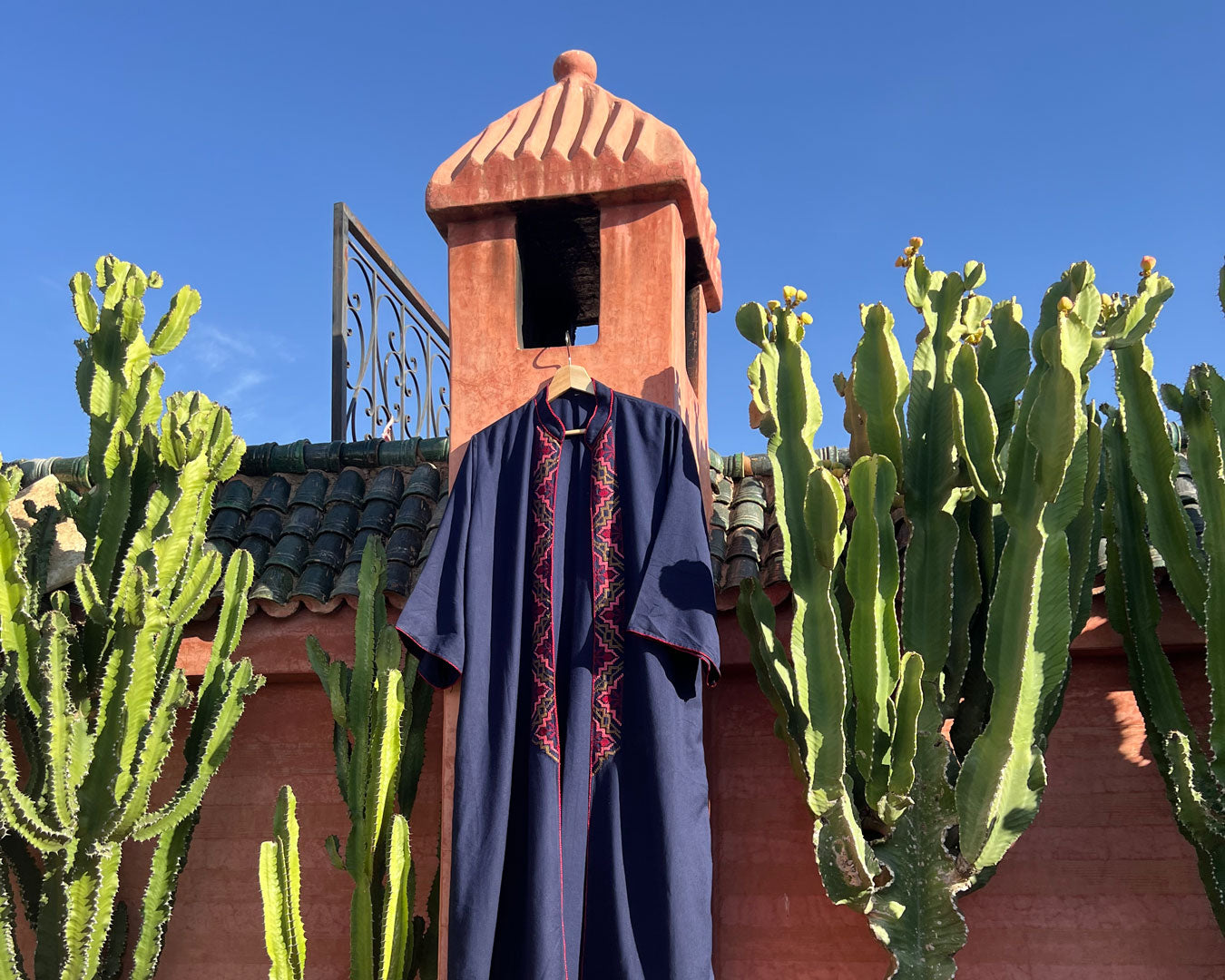 Supporting the rich culture of Morocco
The Souks vendors have suffered during the Pandemic, and therefore Lalam is dedicated to keeping independent Souk stores thriving by establishing agreements to give a fair amount of profit back to shop owners so they can continue to flourish, design and produce exclusive pieces in the future. The pieces of Lalam can help express your bodacious taste while supporting the rich culture of Morocco.
We guarantee you, you will shine wherever you will go with your Lalam. ✨

We love to wear it during the day with baggie jeans and a crop top and just through over our Lalam to spice up a casual look.

Otherwise wear it to a sexy short dress with boots or high heels to make everything look a little more extra but still contain the casual coolness factor.

We believe Lalam can be worn with everything.
All Lalam's pieces are best dry cleaned, though if needed we would suggest you wash them by hand.

🧼
- Soak your product for ten minutes in cold water using a detergent for delicate clothes or shampoo.
- Squeeze out the excess water, but do not rub or wring.
- Hang in the shade to dry and steam gently.

💨
In case you own a Lalam velvet coat, steaming is your best friend.
It is not only brilliant in removing stains; it is also useful in reducing fabric compression.
If you have a steamer at home, you can steam out the cloth's creases. Otherwise, you can use the steam setting on your iron to do this treatment. Remember to use the low heat setting to prevent damaging your velvet fabric. Also, moving in the opposite directions of the pile releases the wrinkles.
The symboles embroidered on the Jackets stem from the old Moroccan Berber (inhabitants of North Africa); they've used the same embroidery symbols for the past 100 years.
The Berber symbols, designs, motifs and tattoos originated from pre- islamic beliefs influenced later by islamic geometric patterns and ornamentations.

⚓️ The once embroidered on the jackets are a mix of various symbols. Part of it reminds of an anchor which expresses:
- solidity
- continuity
- faithfulness
- balance
- lucidity

As close as it gets ☺️
Transparency is actually the keyword!
We speak to the makers and artists behind each jacket almost everyday and interact with their daily Medina life on every level.
We follow them through the entire design, production and shipping process and make sure that each jacket carries its extra part of Morocco's culture in it.
We appreciate and love their families and their stores and we assure them a fair pay.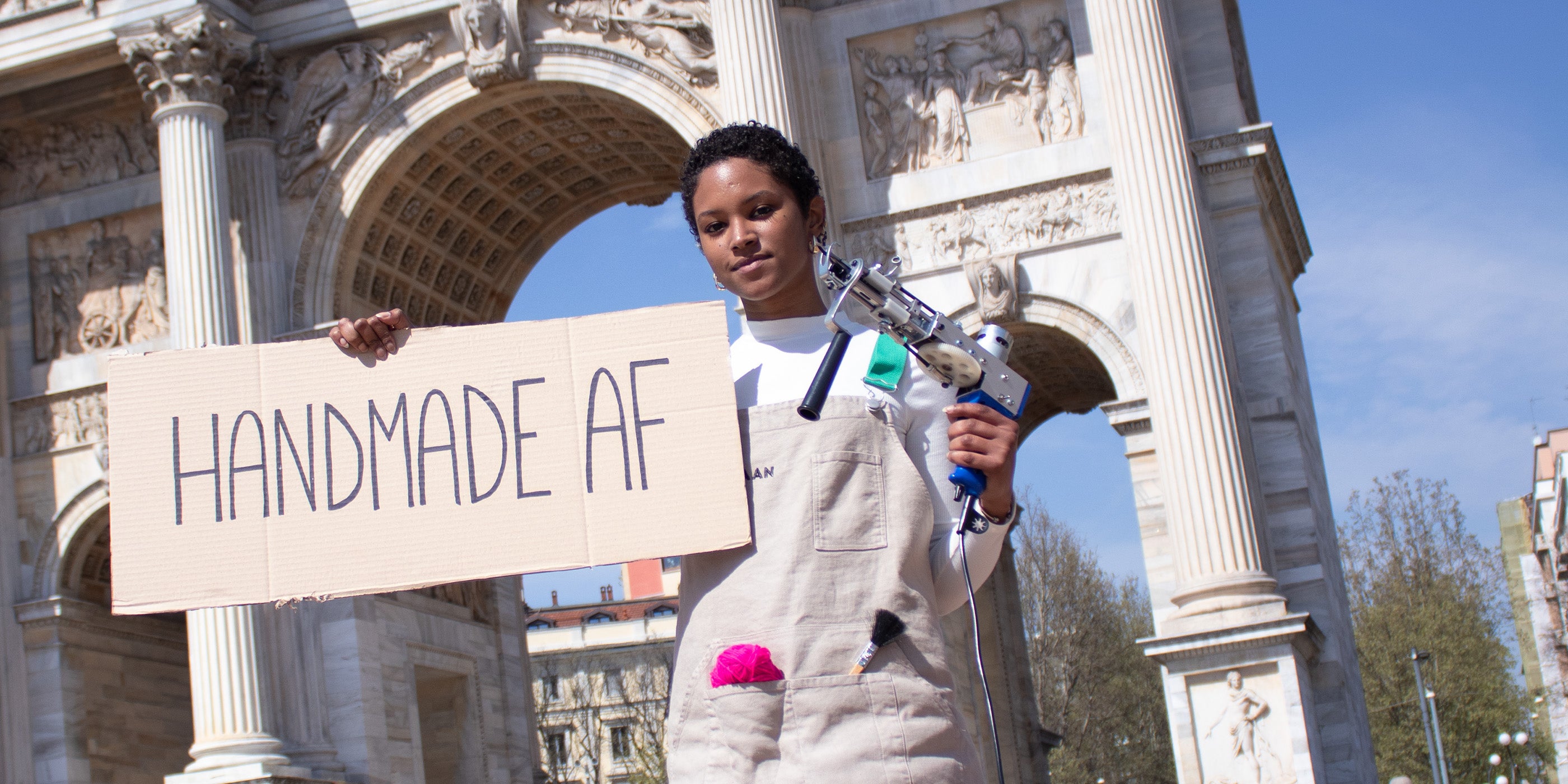 MORE THAN JUST PRODUCTS
An ever growing community
Artisans, designers and creative minds are the protagonists! Do you want to join the community? Reach out to us!