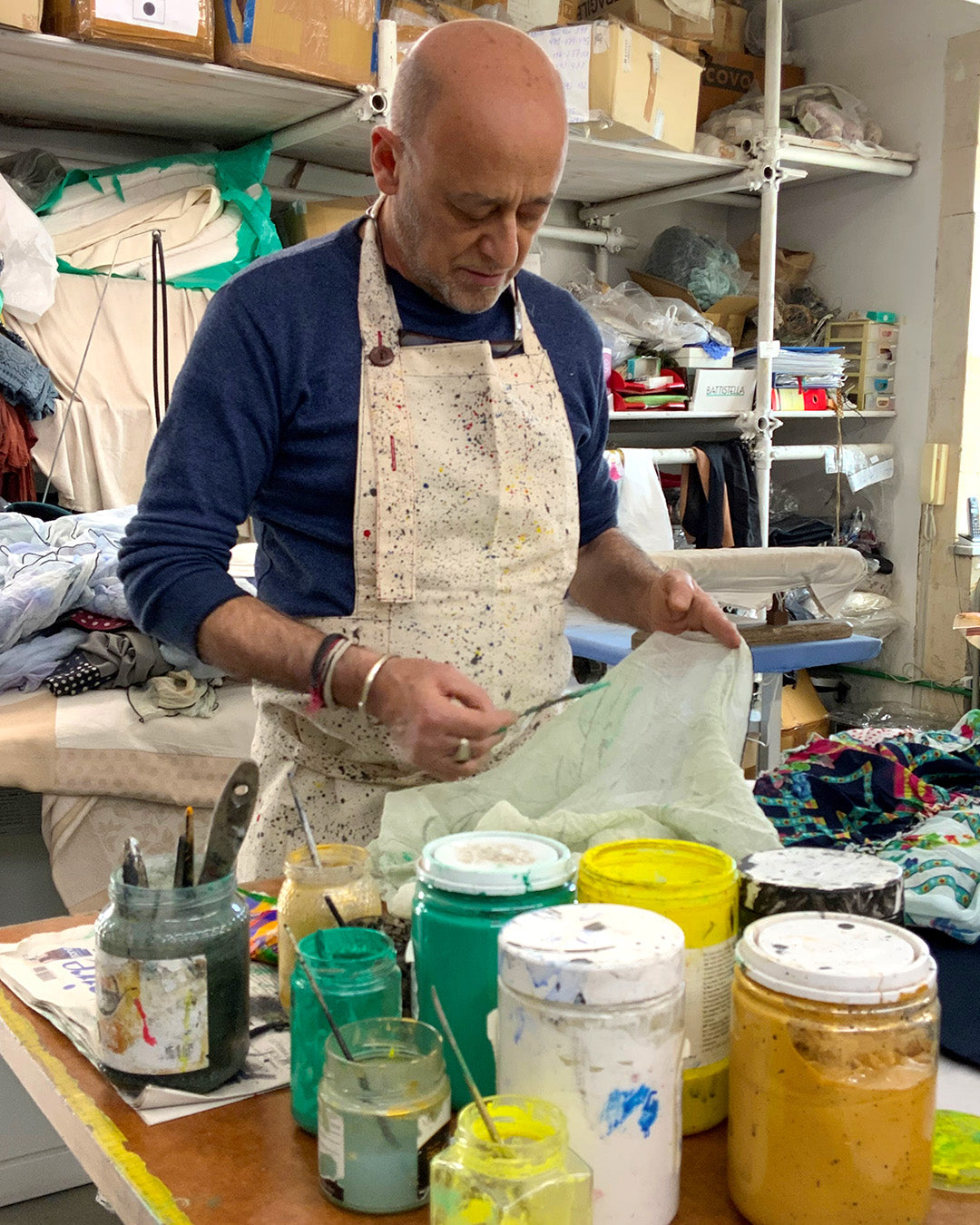 EUGENIO VAZZANO
Factory Melilli
Mellili, Italy
"Living the body and dressing the house"
Eugenio Vazzano, born in Melilli (SR) in 1958. "Last of the emigrants", at the age of just 14 he is in the United States where he works in various places to support his art studies. He then returned to Italy where he worked for years in fashion. But the call of his Sicily and its colors, it gets stronger. Hence the return to Melilli and the beginning of his expressive research that leads him to deepen aspects unusual, ancient and very current, of traditional, regional art and to take an interest in other productions related to scents and flavors of the earth.
From 1990 Eugenio begins with personal exhibitions in various cities of Italy (Syracuse, Taormina, Palermo, Milan, Munich, Rome, Berlin) In 1992 he created the Cooperative Society Factory Melilli.

The multiethnic personality of Eugenio Vazzano is the result of multiple experiences that during his artistic life they enriched him; at the basis of his training there is no break with his past people in the name of "modernity", but rather a union or even a skilful fusion of a highly original one innovative spirit that dresses in internationality what is the tradition of a civilization. This style in continuous ferment leads to a copious production of textile artifacts that reflect faithfully the eclecticism of their creator.
more about Factory Melilli
Value in the details
Artful Patchwork Dripping: A Sicilian Fusion
The old patchwork tecnique (a modern way of assembling fabrics). As for the decoration (dripping), it is all a manual and very slow process, so that each drip can penetrate the fabric, with a slow method and specific colours for organic fabrics. The fabrics and stitching are made expressly to our own designs, after research of old Sicilian furnishing fabrics. We then tear them into small pieces and assemble them to create our own pieces, with topstitching, also made with a special cotton, in which we create artful stitching.
Nature's Thread: Sourcing Organic Fabrics
He uses all natural fabrics: cotton, linen, silk (organic). Some of the materials come from the institute (embroidery school) Suore di Maria Ausiliatrice of Melilli.
Embracing Sicilian Heritage in Handcrafted Creations
"There are two constants of mine: Sicily, which is love for my territory from which I draw inspiration for my creations every day; the Art, which I pour out in my handcrafted creations. Everything I do is the result of a deep bond with the tradition of my land, which every day teaches me something more and nourishes my inspiration, and of an unstoppable research work, which guides the choice of fabrics, also to recycle as much as we can, in order to create less waste and give a unique artpiece."
We suggest washing the pieces at 30°, max 50°.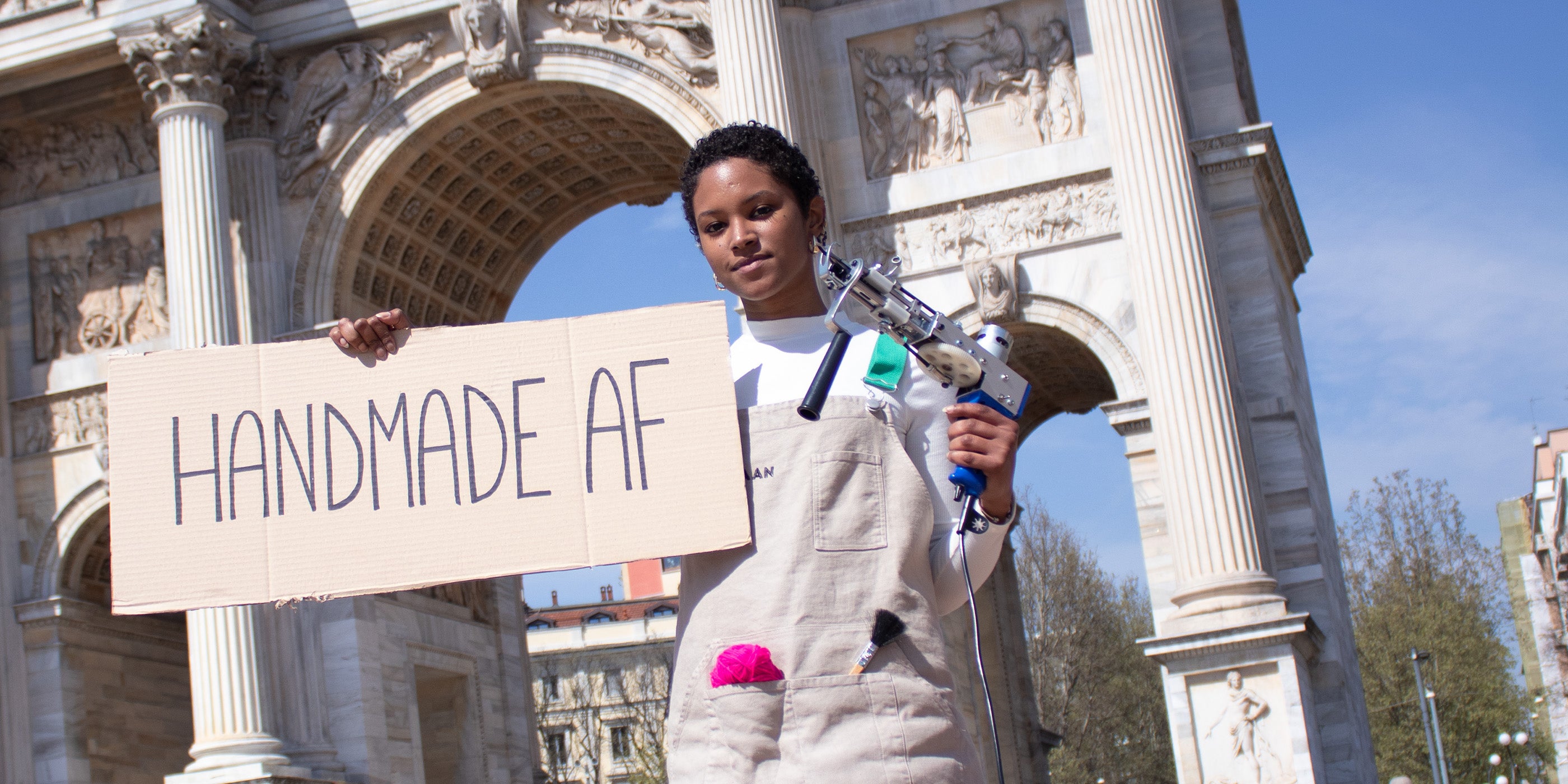 MORE THAN JUST PRODUCTS
An ever growing community
Artisans, designers and creative minds are the protagonists! Do you want to join the community? Reach out to us!