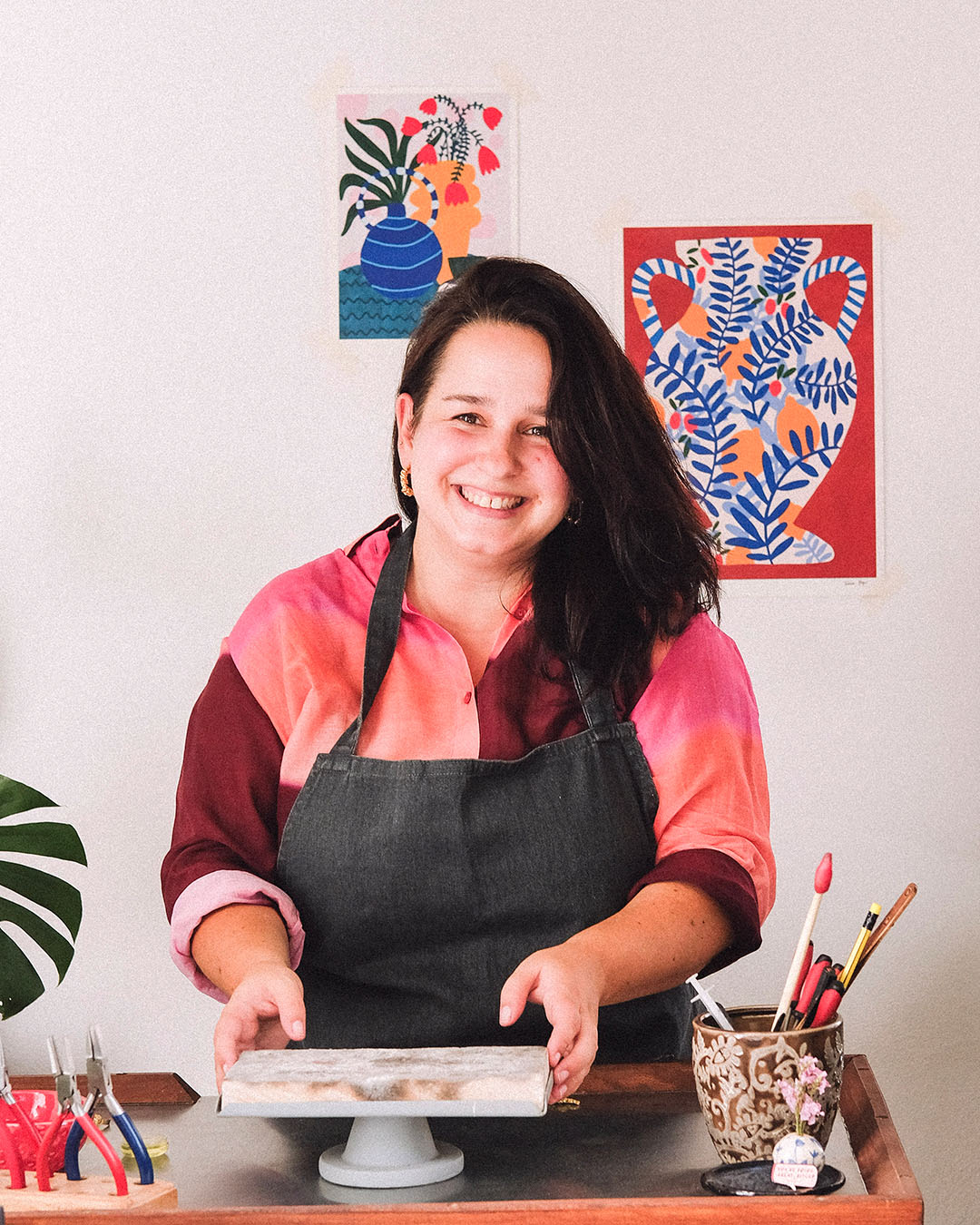 JOANA PESTANA
Joana Pestana Jewellery
Porto, PORTUGAL
"Clumsy hands make pretty things"
Joana Pestana was born in Porto and graduated in History. Years later, she had a clothing shop in Porto's art district. She was always fascinated by jewellery and dreamed of learning the techniques and processes. A bump in the road pushed her to try and she never looked back.
She yearned to explore her creativity through her hands and little did she know that her clumsiness would be the start of something amazing. Testing the limits of the metal and achieving surprising textures are some of her favorite things. Add a crooked stone on top and everything is perfect.

She spends a lot of time making sure her pieces are uneven and full of intricate details. She thrives in imperfection and seeks the so called flaws, making them part of her identity as a jeweler.
more about Joana Pestana Jewellery
Value in the details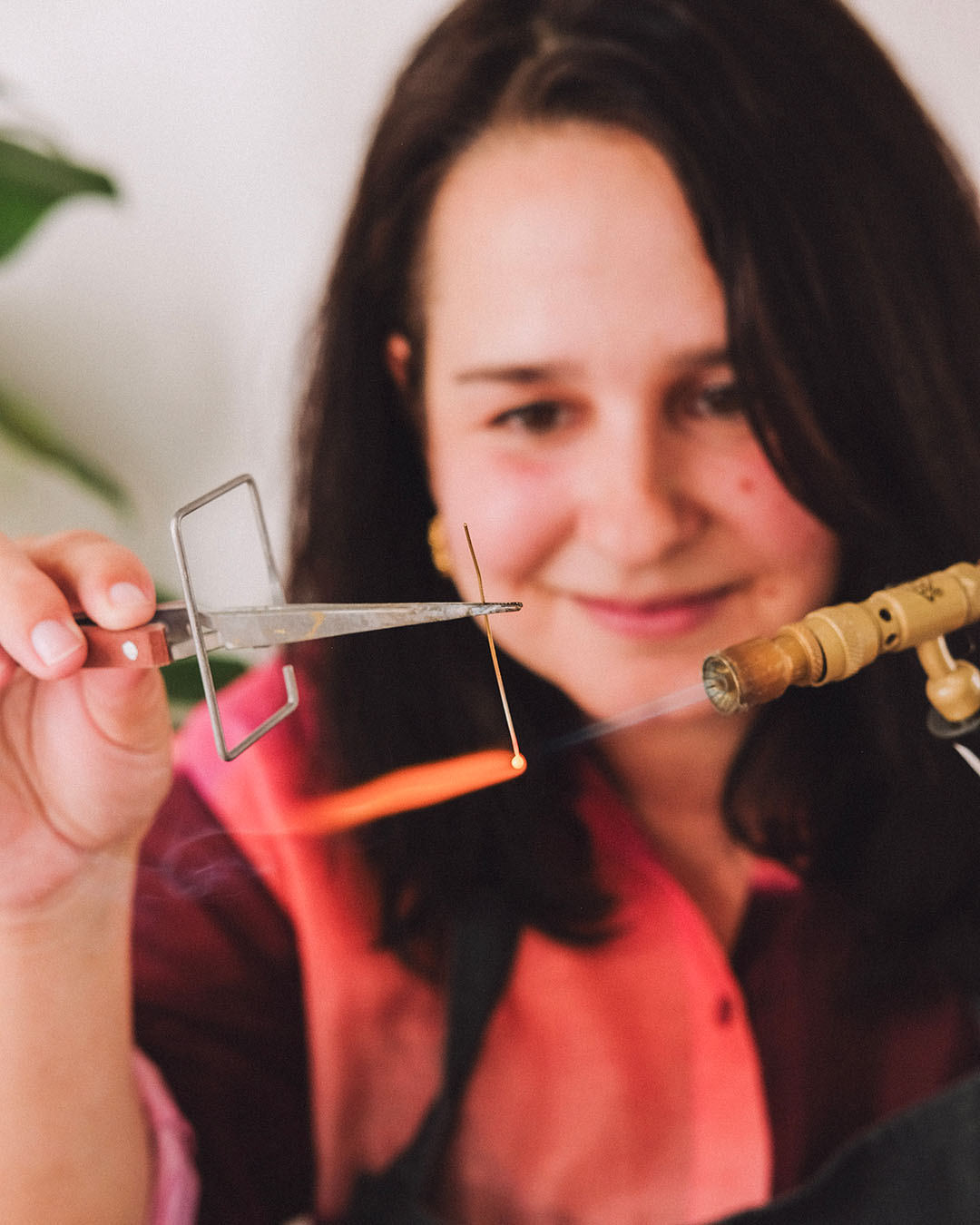 Crafting One-of-a-Kind Jewelry: The Enchanting Journey
She prefers to work with metal and to test the idea directly, rather than drawing it. This allows her to have some surprises, mainly good ones!
First, she sees the metal elements and then starts to solder and melt until she reaches the desired result. To create a new piece, it can take several days. The uniqueness of the textures and the peculiar way she sets the stones make her pieces one of a kind.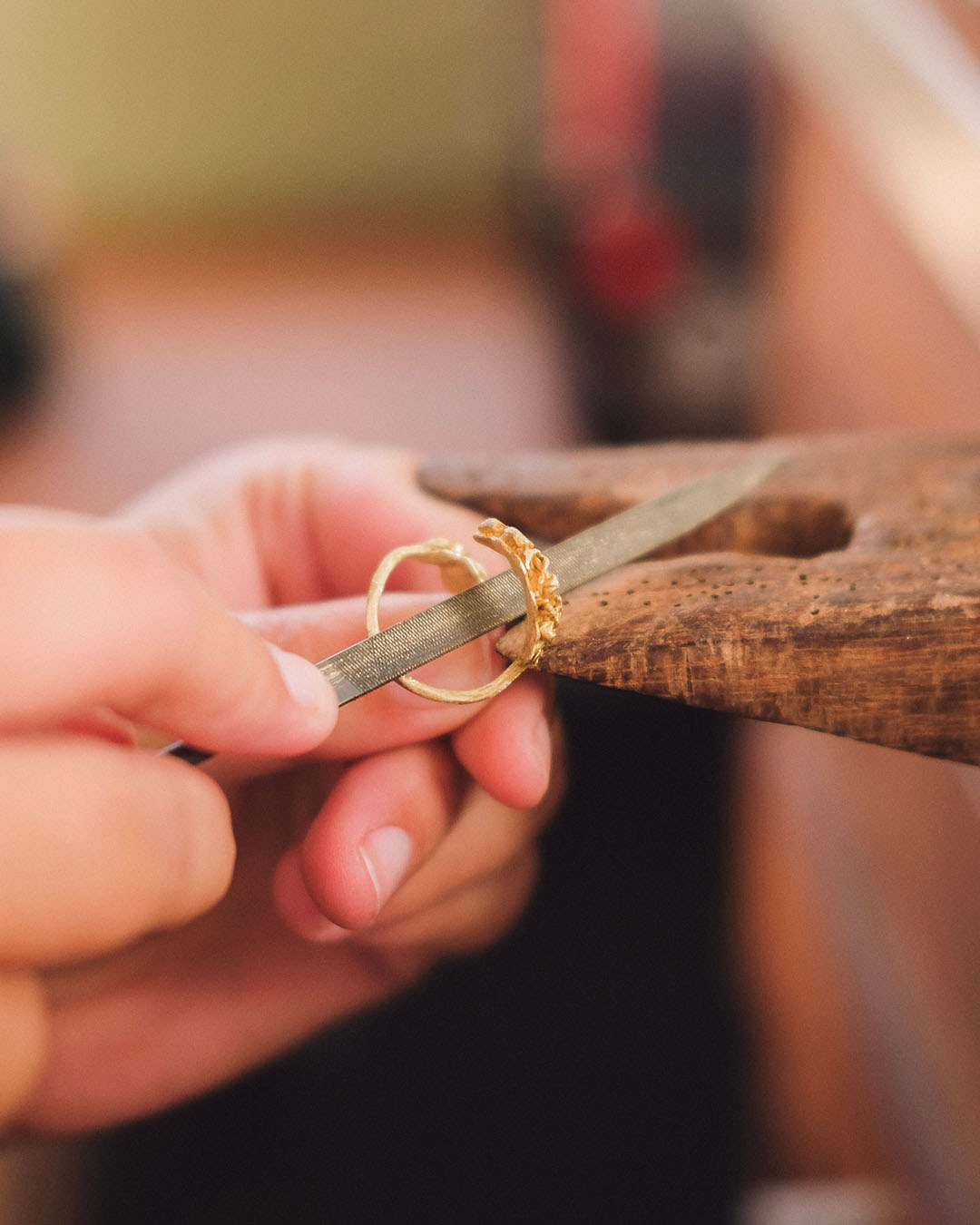 Sustainable Beauty: Brass and Zircon creations
She works with brass, a versatile and endlessly recyclable material, emphasizing the importance of sustainability in her process.

She primarily employs zircons to infuse vibrant colors into her creations, selecting them based on the inspiration behind each collection.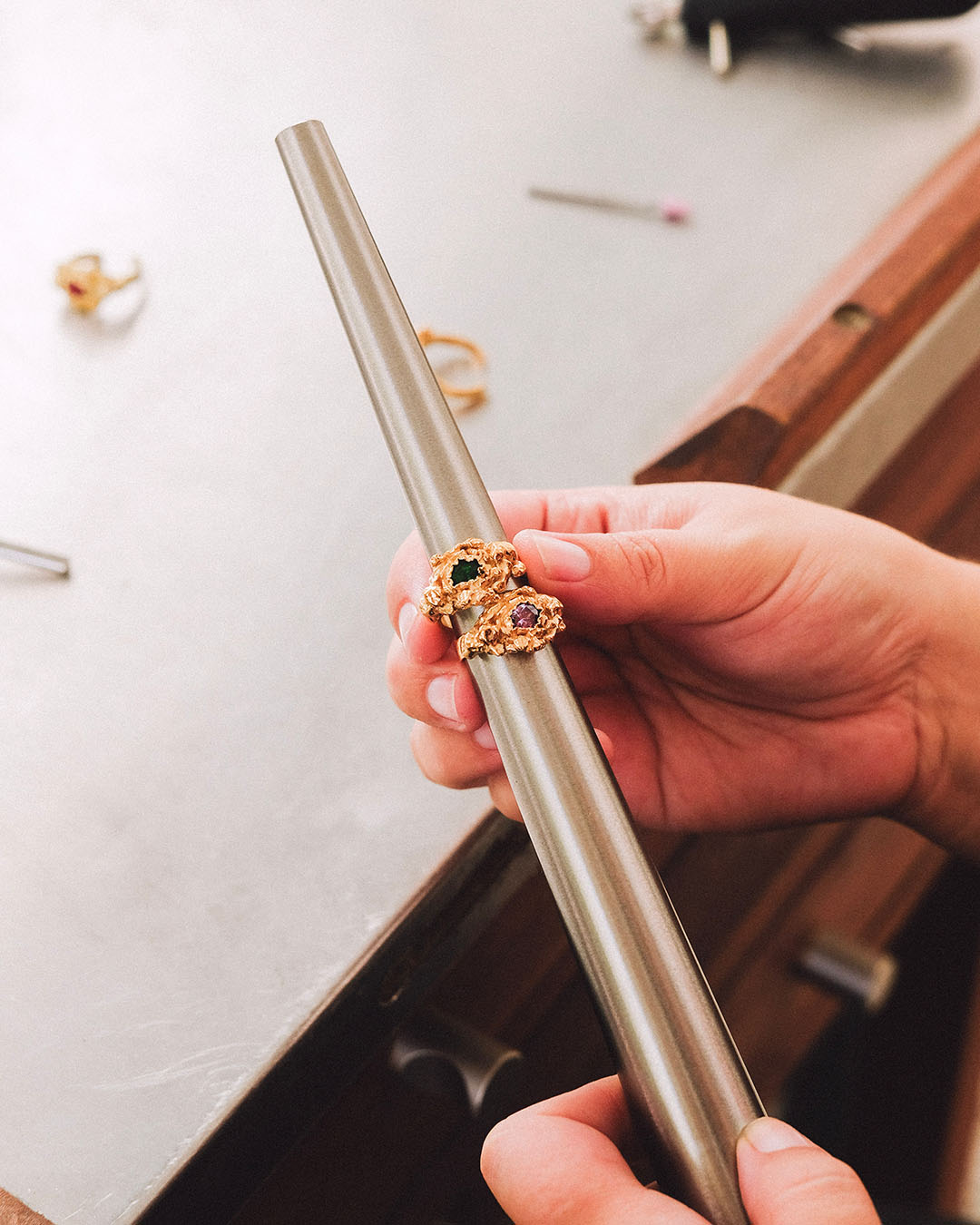 Crafting Lifetime Treasures
Her main inspirations are the imperfections she sees in her day to day life. She enjoys the process of trying to achieve the textures in metal, taking it close to its limit before it melts completely.

To take a traditional jewelry technique and use it in a different way makes her happy.

She strives to make pieces that can last a lifetime and be tokens of handmade uniqueness.
It depends on the size and the details of each one. From the idea to the final result, it can take several days or weeks.
She really enjoy working with metal. She spends a lot of time testing, melting and soldering elements.
If you want a different color, please reach out to TA-DAAN in chat or via e-mail and we'll let you know if we can meet your needs.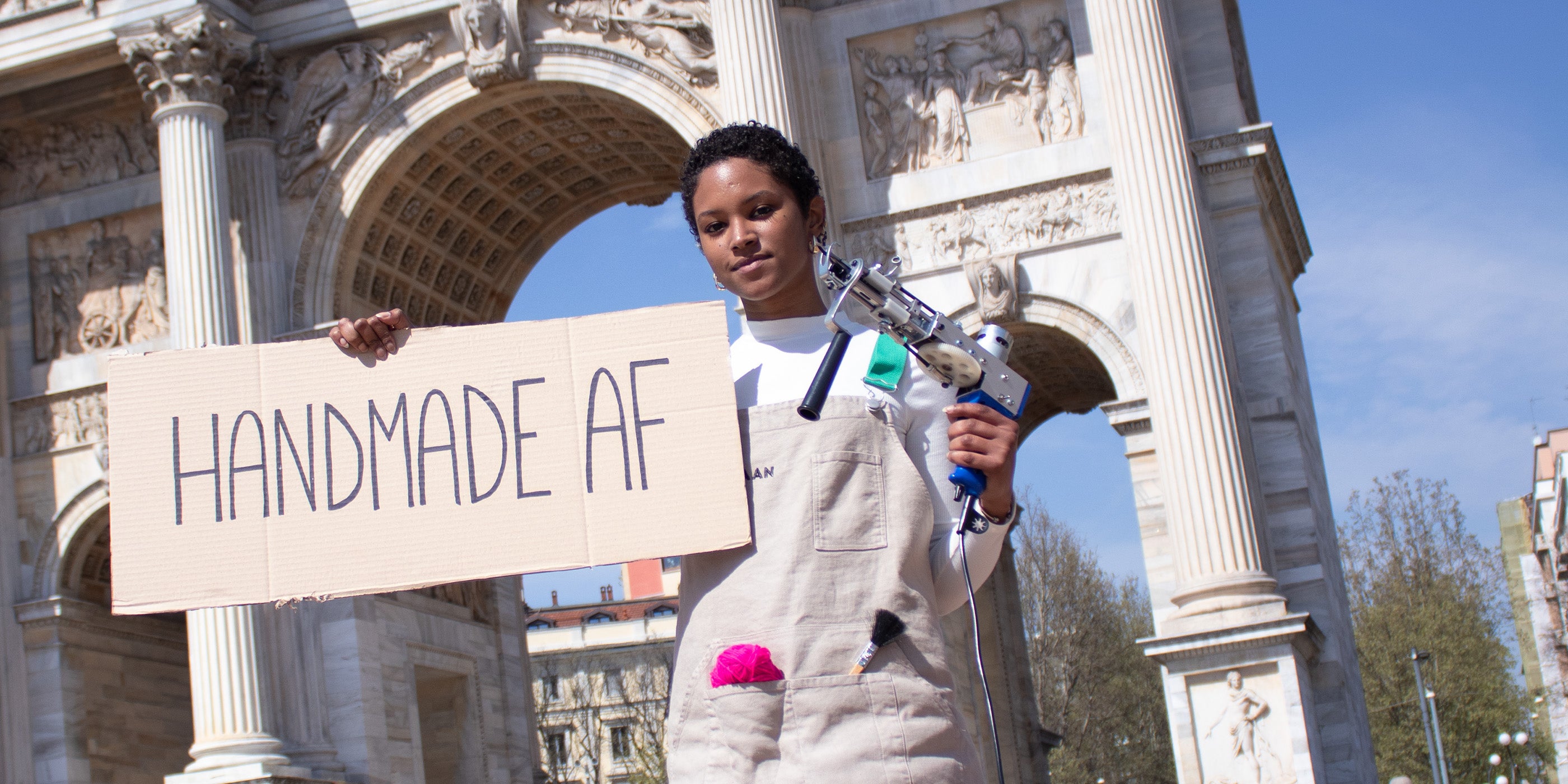 MORE THAN JUST PRODUCTS
An ever growing community
Artisans, designers and creative minds are the protagonists! Do you want to join the community? Reach out to us!